Serena Williams has spent her career defying the odds, winning 23 Grand Slam singles titles and becoming the oldest world number one at age 35.
But now she will face perhaps the ultimate challenge – making a comeback after motherhood.
Also read: Serena Williams shuts down internet with '20 weeks' pregnant post
Williams, who announced her engagement to Reddit social media site co-founder Alexis Ohanian last December, revealed Wednesday that she is having a baby.
If her timing was precise, it would mean Williams won the Australian Open, her 23rd Grand Slam crown to set an Open Era record, without dropping a set on January – while eight weeks pregnant.
It would also mean she could give birth during the US Open, which begins on August 28.
Kelly Bush Novak, Williams' publicist, said only that Serena "is expecting a baby this fall" and "looks forward to returning in 2018."
After the flurry of well-wishes, a question quickly came to the fore: can Williams, who turns 36 in September, return from having her first child and overtake Australia's Margaret Court for the all-time record of 24 Grand Slam singles crowns?
Moreover – would she even want to?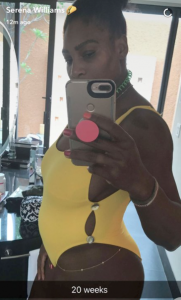 "This is another one of those ultimate challenges for Serena Williams, say around the age of 37, to try and tie Margaret Court," said Pam Shriver, a 1980s US tennis star-turned-commentator for ESPN.
"There's no reason she can't do it. What she has done in her 30s is more than any other tennis player."
Court was 29 when she gave birth to son Daniel in 1972 and the next year captured her final three Grand Slam titles, sweeping the Australian, French and US Open crowns.
Williams has not backed down from challenges, injuries, age, controversy and tragedy in becoming the face of women's tennis for most of the past two decades.
She grew up in the crime-ridden Los Angeles suburb of Compton, learning the game she would come to dominate from her father Richard and practicing mainly against her older sister Venus.
They shunned the typical junior development circuit for work on their own, Venus drawing laughs when she said she expected to battle her sister for world number one – only to be proven correct in epic fashion.
Serena's storied WTA Tour career began at age 14 in 1995 in Quebec City.
She then stunned top-ranked Martina Hingis to capture the 1999 US Open at age 17 for her first Grand Slam title, becoming only the second African-American woman to win a major crown after Althea Gibson.
With success, though, came controversy.
In 2001 at Indian Wells, fans jeered Venus defaulting a semi-final to her younger sister and booed Serena in the subsequent final, which she won.
Serena boycotted the event until 2015 as a result of the treatment, her father insisting racist remarks were made to him by spectators.
Williams began the first "Serena Slam" in 2002 with wins at the French Open, Wimbledon and US Open and finished the feat at the 2003 Australian Open, defeating Venus in all four finals to join Court, Steffi Graf, Martina Navratilova and Maureen Connolly as the only women to hold all four Slam titles simultaneously.
Her run ended with a loss to Justine Henin in the French Open semi-finals, but she rebounded to win Wimbledon before undergoing quadriceps surgery to miss the US Open.
Tragedy then struck in September 2003 when her half-sister and personal assistant, Yetunde Price, was killed in a drive-by shooting. Serena took eight months off before making a triumphant 2004 return at Miami.
She overcame a left knee injury to win the 2008 US Open at a time when tennis stardom took a back seat to other interests – fashion design, television and music.
A penalty point for yelling profanity at a lineswoman cost her a 2009 US Open semi-final against Kim Clijsters, who would go on to win the 2009 US Open and two more major titles.
For more sport your way, follow The Citizen on Facebook and Twitter.