Brighton Mhlongo steps in for Meyiwa
The last couple of weeks must have been a waking nightmare for the whole Orlando Pirates squad, following the death of their friend and teammate Senzo Meyiwa. There is probably no right time for the Buccaneers to start playing again, but that time arrives on Saturday night, in the Telkom Knockout semifinal against SuperSport United at Orlando Stadium. Emotions are likely to be extra-high at the ground where Meyiwa played his last game for the club, and no one is likely to feel it more than Brighton Mhlongo, who will step between the posts in place of his friend and mentor in the worst possible circumstances. If Mhlongo and his Pirates side find themselves distracted by the occasion it will be perfectly understandable. But the atmosphere could also lift Mhlongo and the Buccaneers to perform at their peak, and if they do, they are almost certain, with the talent in their ranks, to reach a fifth successive domestic cup final.
Can SuperSport continue to fly under Igesund?
It is impossible to over-inflate the impact Gordon Igesund has had since arriving at Matsatsantsa in September. The statistics bear the ultimate proof of his success – when Igesund arrived SuperSport had won just one of their opening six games of the season and were in some disarray. Sometimes a coach needs time to settle in, but Igesund flew out of the blocks, and has won six of his seven games in charge. One can say what one likes about Igesund's time with Bafana – his stint was very up and down – but at club level he remains one of the very best in the country. Matsatsantsa will have to cope with the emotion of the game against Pirates themselves – but their can't be too much room for sympathy in this game, and no doubt Igesund will be determined to get one over one of his former sides.
Déjà vu for Platinum Stars?
En route to winning the Telkom Knockout last season, Platinum Stars beat Kaizer Chiefs, Mamelodi Sundowns and Orlando Pirates, confirming their status as the cup kings of the first half of the campaign. It was a phenomenal effort from a side that had already won the MTN8, and as Robert Ng'ambi told Phakaaathi this week, it was important because it proved their success under Allan Freese was no fluke. This season, Chiefs thumped Stars in the MTN8, but Dikwena bounced back with a resilient display to knock Chiefs out of the Telkom Knockout in the quarterfinals. If they can beat Sundowns on Sunday, there is every chance Stars will set up another cup final against Pirates. And if they can win this season's TKO, it will be further confirmation of the knockout pedigree of the side from Phokeng.
Pitso and Sundowns badly need this win.
A couple of notable, not-so-pretty events happened in the life of Pitso Mosimane this week. First he made a rather reluctant public apology in front of his president Patrice Motsepe for the comments he made after the 3-0 defeat to Orlando Pirates at the end of August. Then he watched his team play out a goalless draw with MP Black Aces, to lose further ground on runaway league leaders Kaizer Chiefs. Sundowns haven't lost a game since that embarrassment against Pirates, but they have drawn their last three league matches, and are not exactly strutting it around as moneyed reigning champions should. Sundowns would ordinarily be heavy favourites to beat Dikwena, but they have lost their last two cup meetings with Stars, and their knockout record is shocking. For a side of their calibre not to have won a knockout trophy since 2008 is unbelievable. The Brazilians need this badly, and that could just count against them.
More empty stadia?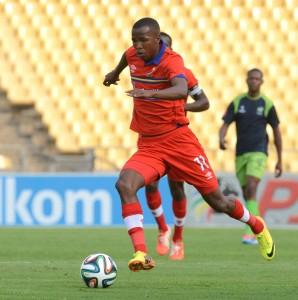 Senzo Meyiwa's senseless killing might just motivate more Orlando Pirates fans than usual to get to Orlando Stadium on Saturday night to watch the Buccaneers play SuperSport United in the semifinals of the Telkom Knockout. It will be good to see a packed stadium pay tribute to a fallen hero, but it would also be good if Orlando Stadium was packed for all the Buccaneers' home matches. Unfortunately, for the most part, Pirates home games, like almost all others in this country, are very poorly attended. It will be very surprising if the Royal Bafokeng Sports Palace looks anything other than a ghost town on Sunday, as Platinum Stars host Sundowns. There are obvious factors keeping fans away from stadia, such as the affordability of tickets to the average South Africa, the ease of getting to and from the grounds, the availability of the games on television, and the general paucity of the standard of play. But the main concern has to be the lack of concern about the problem displayed by the league. The Premier Soccer League loves to blow its own trumpet about how well it is doing in the market, but until the grounds are packed, the product lacks a real people's punch.
Would you like to place a soccer bet? Click here to get started in 3 easy steps.