In 2017 a special needs student was held in solitary confinement because she refused to allow teachers to cut her hair. The principal was not impressed with the new haircut, so she demanded that it be changed. When she refused, she was put in a small room meant for disciplining. The school admitted to locking the girl in there for six to seven days, then subsequently taken home. 
Does a hairstyle warrant punishment?
Stories emerge from schools such as Pretoria Girls High School, Malibu High School, and even Windsor House Academy last week as schools reopened and a pupil was sent home for having braids that were "too long". All these schools were criticised for having a discriminatory code of conduct meant to disadvantage black and coloured students. 
Hoërskool Delmas in Mpumalanga  "mistakenly' released its code of conduct, prompting outcry, as it stated that the school did not accept dreadlocks, Afros, 'banter' (bantu) knots or 'poetic justice braids'.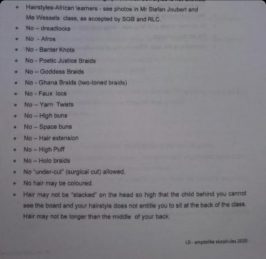 Principal Cas Badenhorst stated that the release of the policy was a big mistake and they would rectify it. 
Afrobotanics CEO Ntombenhle Khathwane said that "the school environment is one of the most influential spaces that shape not only our thinking but also how we see ourselves as human beings, the value we place on ourselves".
Schools should, therefore, embrace the natural state of black and coloured girls' natural hair as beautiful and neat. 
Who defines what constitutes 'untidy' hair?
Many of the schools' policies state that hair must not be 'untidy' and at their discretion, can decide what 'untidy' is. According to the SA School Act, schools have the right to decide on their codes of conduct. It states "subject to any applicable provincial law, a governing body of a public school must adopt a code of conduct for the learners after consultation with the learners, parents, and educators of the school".
This means that the Department of Education does not have a policy that relates directly to the policing of hairstyles in schools. However, during numerous cases regarding the policing of hair at schools the South African Human Rights Commission has intervened and issued statements focusing on the constitution and the legal rights parents and their children have.
The Human Rights Commission's legal adviser Shirley Mlambo has previously acknowledged that "some policies indirectly discriminate against other racial groups".
Time for a change?
Additionally, a number of school policies are outdated, with many steeped in "old traditions" that have not been updated in years. In most cases, Afros and dreadlocks bear the brunt of these policies, meaning black and coloured girls who have embraced their natural hair are either forced to cut it or wear it in a way that enforces the school's code of conduct. 
Global Citizen recently reported that California became the first US state to ban discrimination against natural hair at school and in the workplace. New York City is set to follow suit. Six-year-old Clinton Stanley Jr. was turned away on his first day of school in Orlando, Florida, because he had dreadlocks. An administrator at the entrance said he must cut his hair. 
According to Gail Smith, feminist writer and spokesperson for the Soul City Institute for Social Justice, school policy needs to change and we should look to the constitution for answers.
"Parents should not just accept the codes of conduct of schools but should challenge them and be active where the governing body is concerned. It is a collaborative effort among both parents and the school to meet legislatures halfway."
All too often parents do not follow the legal processes with the Constitutional Court to really make a change and impact on how their children are treated in schools.
In a 2008 judgment, the Constitutional Court found that our constitution requires the community to affirm and reasonably accommodate difference, not merely to tolerate it as a last resort. The court further noted: "Our Constitution does not tolerate diversity as a necessary evil, but affirms it as one of the primary treasures of our nation," meaning that schools cannot unilaterally decide on the limitations of hair.
Then Chief Justice Pius Langa was quoted as saying: "As a general rule, the more learners feel free to express their religions and cultures in school, the closer we will come to the society envisaged in the Constitution. The display of religion and culture in public is not a 'parade of horribles' but a pageant of diversity which will enrich our schools and in turn our country."
Diversity is at the very core of our existence as a country. It is not only a diversity of skin colours, but also of heritage, history, and cultures. 
If you found this article useful or interesting, why not subscribe to Parenty's weekly newsletter for a wrap up of that week's best content.