Reading is a fun and educational way for kids to not only learn about themselves but also about the world they live in. It fosters creativity and opens up those little brains. 
Omphile Raleie and her son Molemi "Mo" go live on Bookamoso's Instagram at 15:00 to read a children and an adult book. Mo is currently reading Roald Dahl's book collection for the kids.
Make sure they join him from 15:00-15:30. 
Parents can also stay for an adult reading from 15:30-16:30, reading a different book each day.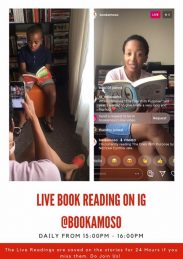 For more news your way, download The Citizen's app for iOS and Android.