"A disability is usually defined by what is lacking, but autism is as much about what is abundant as what is missing, overexpression of the very traits that make our species unique."
– Paul Collins
Keo was born in January of 2014 and was the quietest, most peaceful newborn. He would usually stare into midair and smile. Like with my other child, I couldn't wait for certain milestones to be reached. The baby language, the baby laugh and the reaching out for mom when he needed something.
As he grew, certain characteristics about him became alarming to me. My son of just over two years would not make eye contact, not even mumble a word. He grew very energetic, and if he needed anything he would take us by hand and show us with no expression involved. He wouldn't eat certain foods. He would rage with anger at times and as a mother, you know that this is not the norm.
In the back of my mind, I speculated what I was going to hear from the doctor, after doing extensive research myself. Keo was diagnosed with autism and ADHD in August of 2016, just a few months before his birthday. The confirmation was worse than the speculation.
Keo attends a school specifically catering to children who have autism. It takes patience and time to understand a unique individual like him. As a parent, you learn what makes him comfortable and what creates a chaotic experience for him. Even if it's serving him food on the wrong plate.
He makes every minute of his day an adventure; school, and home and even bedtime. I opted for my son not to be on any prescribed medication. I let him be who he truly is so that he is not dependent on a drug to make him function.
He is treated no different to his two sisters and I believe that's what makes a huge difference.
Keo can currently speak sentences up to five words, he knows his numbers and animals. He also knows his family members' names and has an insane fascination with large trucks.
His story is not over but has merely just begun. It did not end with his diagnosis. His story begins every day, with each day bringing a different challenge and milestone. It is both good and bad, and an ongoing learning process for both him and us.
---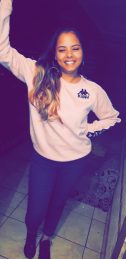 Quality Assurance consultant by day, chef and butt cleaner by night.
Seven years ago, God blessed me with a beautiful baby girl, two years later a special boy, and two years later, another beautiful girl.
27, still feeling 18'ish
On the road to becoming a fiercely independent woman that my girls can look up to
Defender and protector of my boy.
Values – Family; Compassion; Respect; Courage.
If you found this article useful or interesting, why not subscribe to Parenty's weekly newsletter for a wrap up of that week's best content.