As one approaches the end of pregnancy, packing the hospital bag(s) becomes an essential action item and in our case; we tried to pack not only for necessity – but also for comfort. Your hospital room is considered home for mom and baby for the first few days after delivery. Why not make your stay as cosy as possible?
One of the first things to think about is when exactly is the right time to pack your hospital bag.
I guess a good answer would be that each mommy and daddy will go about packing, in their own time.
For me, I wasn't too concerned about when to start with the packing, but rather set myself a finish date. We wanted to make sure that our bags were packed at least two weeks before baby's arrival. Once this was decided, we tried to gather a few things each month, leading up to baby's due date.
By jotting down the needed items and setting a 'pack-by' deadline for myself, I had one less thing to worry about. In addition, my sister-in-law hosted our baby shower about six weeks before baby's due date; meaning whatever else was needed after our monthly buys and the baby shower; could be purchased before the 'pack-by' day.
Your hospital bag list from the doctor is rather basic and provides a good starting point for new moms. Six years ago with our son, we went strictly by that list. It was a basic list: toiletries for mom and baby, clothing for mom and baby, mesh underwear, linen savers, and pads. These are the types of items included on that one-pager.
Fast forward to October 2019 after extensive reading and reflecting on how we could've improved our hospital stay, I put together a more extensive list which I feel contributes towards a bit of ambience as well as comfort. Here are additional items to consider, which are not mentioned by the medical aid or hospital, when packing your hospital bag: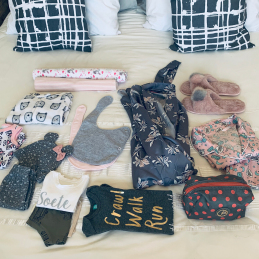 For mommy
– two pairs of pyjamas and a nightgown: this is the perfect opportunity to purchase new, snug PJs.
– Flip flops and a pair of slippers: one for comfort, the other more practical.
– two nursing bras
– Go home outfit: I decided to wear all black – leggings and a lose-fitting top. This is also the outfit I was wearing when we arrived at the hospital.
– Cooling breast pads
– Lip ice / vaseline
– Towel
For daddy
– A change of clothing: depending on how long your partner decides to stay at the hospital.
– Cellphone / tablet: for photos and downtime.
– Casual shirt for in-hospital photos.
– Text list: people to contact/share baby's birth announcement.
– Cellphone charger and plug.
For baby
– Muslin / wrap blankets: one for each day.
– Baby announcement outfit and props: this is for a photo opportunity in hospital. We opted for a matching swaddle blanket and headband set which I made from stretchy t-shirt material, together with a lightbox with all baby's info.
– Car seat (bring on the last day)
– Mittens and baby hats: one (pair) for each day.
– two pair of socks: just in case
– Go home outfit
General
– Water bottle: keep filling it up. Stay hydrated.
– Snacks: granola bars, jelly babies, biltong sticks.
– Cellphone charger and plug.
– Holder / container to carry flowers home
– Extra pillow: for comfort.
– Diffuser for your room. There's nothing as unpleasant as a distracting smell.
Planning stages: mixing and matching items
Knowing that we'd be having a c-section, I decided to pack separate bags – for baby and I – to make things easier for daddy. In addition, I packed and labelled baby's clothing per day; in Ziplock bags. It is quite common that one's birthing partner (in our case my husband) gives the baby their first bath and labelling was another way of assisting our new daddy through the process.
Baby's bag: clothing packed and labelled
My first birthing experience was traumatic and left me scarred for a long time. To try to lessen the anxiety this time around, I took to planning.
There are probably many more items that one could add to the above. I tried to go with a structured approach to avoid overpacking (which is easy to do) and overcarrying. My wallet, journal, pen, ID copies and snacks were neatly stashed in baby's nappy bag.
Good luck with your unique birthing experience and feel free to add on to the list, in the comments below.
---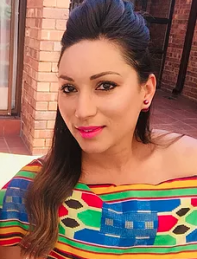 May Botha is a shoe addict who enjoys a mixture of everything from fashion and beauty to good food and quaint markets. Her hobbies include reading, writing and spending time with family and friends. On top of that, she is a very imperfect mom from Johannesburg. She created Happy Chappies, which is a lifestyle blog based in Johannesburg, South Africa. Her blog is about finding that silver lining and the fun in the daily chaos of our lives. Here, a group of contributors write about fashion, food, city adventures, culture, travel, and more; from an African perspective.
If you enjoyed this, why not subscribe to Parenty's weekly newsletter for a wrap up of that week's best content?