Rob Paddock is no stranger to successful EduTECH enterprises, in 2017, he and his brother, sold Cape Town start-up GetSmarter – a digital higher education platforms – for US $103m (about R1.4bn).
So when we were asked to meet with him to discuss a new venture, an online high school, our curiosity was piqued.

According to Paddock, Valenture Institute will revolutionise education in South Africa, with a unique curriculum, influenced by the United Nations Sustainable Development Goals, which encourages the holistic development of every learner towards their purposeful and impactful future.
"The mission is to evolve what it means to "go" to school by transforming physical limitations into digital opportunities", says Paddock. The institute is set to offer learners a highly engaging and socially rich learning experience supported by expert tutors and mentors. The leadership of the school is equipped with years of experience in education, technology and innovation.
Using the UNSDGs students are encouraged to participate meaningfully in solving some of the world's biggest problems while completing a quality online high school education that equips them for success in their individual futures. Once students have identified the challenge or area they care most about, the curriculum is then built around supporting them in their endeavour to fix a real-world challenge. Making school less of a theoretical exercise and more a training ground for what the world needs most in the future – problem solvers that think laterally and holistically.
The challenges are worked on as a group, which teaches the increasingly important skills of collaboration, particularly in a world where this collaboration and integration needs to happen virtually and remotely.
When asked about how Valenture Institute will overcome the one-on-one face time that learners require from traditional schooling, Paddock explained that they will be employing what is called "high touch human support", where one-on-one time will be part of the programme as well as tutorial groups and each student will be allocated a mentor.
We also were curious as to how the school would provide the social aspects and skills that traditional schooling environments provide, social skills that require physical engagement – the reading of body language, tonal cues, conflict resolution, compromise and many more. Not to mention the proven value for children and youth in playing sports.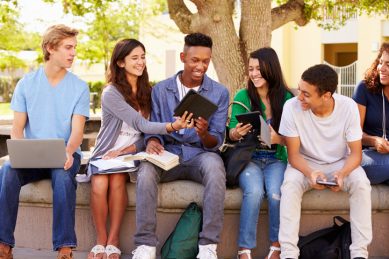 Paddock countered that the world, especially in business, is changing, and learning to interact successfully virtually and remotely is becoming as important as face-to-face in real life. But he does acknowledge the need for the social structures of traditional school environments to be incorporated and adapted to suit the life a digital high school student. Thus the Institute is forming strategic partnerships with societies and clubs to offer their learners access to additional facets of "school" life. Learners will also be mandated to self-organise into clubs, and the staff will support and facilitate the organising of localised meet-ups and field trips.
Lastly, we asked Paddock about the parents, as the traditional school environment offers parent engagement and intervention, whereas a virtual school may be able to exclude the parent's input entirely. Paddock mentioned that parents will have access to a dashboard that gives them feedback on their child's performance, allowing parents to see where a learner is excelling or struggling. Monthly 3-way-calls between mentor, learner and parents will take place for parents to ask questions and see where their child is at in the eyes of the school.
Valenture Institute is a massive shift in how we view education, but seeing as the currently accepted education principles were developed so long ago, the original creators of the principles would probably not recognise the world today. So, perhaps a shift is not just inevitable, but it is necessary.
---
Applications are currently open and close on 26th November 2019 with the first classes set to begin in January 2020 – Learners are due to enter Grade 8, Grade 9, Grade 10, Grade 11 and Grade 12. The curriculum will focus on subjects ranging from Maths, English, Business and Physics to Chemistry, Biology and Geography – across different levels, depending on the subject selection. Admission information and requirements are available online at www.valentureinstitute.com. Annual admission fees for Junior High (Grade 8 & 9) are R60,000 per annum and R75,000 for International GCSE (Grade 10 & 11) & International AS Levels (Grade 12).
---
Compiled by Leigh Tayler
If you enjoyed this, why not subscribe to Parenty's weekly newsletter for a wrap up of that week's best content?