Right in the middle of the #aminext and #enough movements, comes the ruling by the Constitutional Court.
Read – 'Not in my house!' say South African parents following anti-spanking ruling
The Constitutional Court on Wednesday ruled that corporal punishment is illegal in South African homes.

Ruling on whether the common law defence of reasonable and moderate parental chastisement of children is consistent with the constitution on Wednesday morning, Chief Justice Mogoeng Mogoeng upheld a 2017 high court ruling which made it illegal for parents to spank their children at home, dismissing an appeal to the ruling.

The ruling was lauded by Save the Children SA and the Centre for Child Law.
Here are just some of the comments made by fellow South Africans.
Government has messed up the entire country. They cannot do anything right and yet they pretent to know how best to raise a child #corporalpunishment

— Fritz Carstens (@fritz_carstens) September 19, 2019
Alternatives to #spanking number 376?#corporalpunishment pic.twitter.com/okVytv3Gm5

— ruan niemann (@ruanniemann) September 19, 2019
I'm hearing parents saying they are saving bail money for the near future. Apparently they ain't about to stop spanking their naughty kids. ???? Are you going to comply with the Concourt ruling as a parent? #corporalpunishment

— Thokozani Nkosi (@ThokozaniNkosi) September 19, 2019
Dear #ConCourt see your kids?#Spanking #CorporalPunishment
I won't raise such will not allow such sorry stay with your ruling https://t.co/ftyenzZr2r

— PapaAsante (@tebogo_tsotetsi) September 18, 2019
Can't really believe this needs to be said.
But hitting children, for whatever reason, is wrong.
Violence begets violence.#Corporalpunishment #Donthitkids

— Alastair McAlpine (@AlastairMcA30) September 19, 2019
The fact that so many people are defending #corporalpunishment just proves how violent we are as a society. You can't speak out against #GBV yet defend hitting a defenseless child. Violence is wrong!! #ConCourtRuling

— Sindisiwe Badi (@sindi_ndimande) September 19, 2019
We now live in a society where it's illegal to spank your kids at home but legal to kill them before they are born? #corporalpunishment #ConCourtRuling

— Green Street_Hooligan (@laeeq_jappie) September 19, 2019
---
1960s SA, white people: "Never mind what the Bible says, we have to follow the law!"
2019 SA white people: "Never mind the law, we have to follow the Bible!" #spanking #corporalpunishment #SAconstitution

— Lesley Wright (@les_wright) September 19, 2019
@BraAubrey @Thabisoo My mind would be put at ease on this #ConCourtRuling IF there are case studies of countries that have reduced social ills as a result of outlawing #corporalpunishment. Many parents also need to be taught other PRACTICAL forms of discipline.
#SpankAChildOrNot

— Tafmas (@Tafmas1) September 19, 2019
Children are not #punchingbags. #Corporalpunishment only serves to strengthen the cycle of #violence.

— Devorah K (@DevorahK82) September 19, 2019
Bayanya themselves grew up spanked now they in high court through spanking. So I will spank mine until they work in high court

— Mncedanes_247???? (@Mncedanes_247) September 19, 2019
Kids don't read ConCourt judgments. We are still safe.

— Benuka (@Benuka12) September 19, 2019
Proverbs 22 vs 15 Folly is bound up in the heart of a child: the rod of discipline drives it far from him.

— ISWANTSAKO RIKHOTSO LESWI! (@muandisi1) September 19, 2019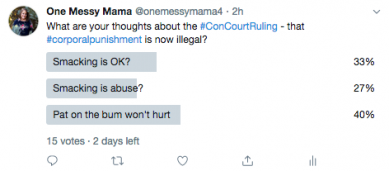 * Compiled by Jacqui Bester
If you found this article useful or interesting, why not subscribe to Parenty's weekly newsletter for a wrap up of that week's best content.