I have been there (and maybe you too): being a victim of the longest month of the year.
It's the one month that makes you feel so overwhelmed and you feel like you won't make it until payday, you get requests from family or friends to send an eWallet or CashSend and and and…
I have even found myself paying groceries on credit during Januworry (and it took me a long time to pay off that account).
At the time when I was doing it (for several years), I felt it was the right thing to do. I wanted to go on holiday to see my family, who live in other provinces, and I didn't want to say anything about my personal circumstances. I always said yes to things when whoever said buy this or that. You know when you go see your family you don't feel like saying "no I can't".
But, I do NOT want to be a victim of Januworry anymore. Seriously.
Why I want to save money instead
No longer do I want to buy things – especially food – on credit. I want to be debt-free.
I feel that whatever amount I have to pay towards debt can be money I could use to spend on my child, whether it is for her future or present.
Growing up, there were a few things my parents could not afford, so I want to give my child what I didn't have. It feels good to be able to give her these experiences.
While on this journey of becoming debt-free, I have realised that the biggest thing I had to change was my mindset. I used to feel like I was living hand to mouth, that I would not even know how I would make it through the month. I had negative feelings around my situation a few days before payday.
Eventually, I realised that to change my situation I had to change my mindset, start setting financial goals and then think of ways on how to achieve those goals. It is not easy, but it is as the Henry Ford quote says:
"Whether you think you can, or you think you can't – you're right."
Basically it means that your attitude determines success or failure.
In the meantime, I came up with a little plan of how I can save money for the holidays (and January) so that I will no longer be a victim of Januworry.
Here are five steps to save money these holidays:

Step 1: Create a budget.
Firstly, write down what you think your expenses will be. This includes making a list of how much you will spend on things like accommodation (for your holiday), fuel and groceries. You might want to add that your children (or any other family member) might ask for money, so add that to the budget too. Make the list and, also of how much each will cost you. Then work backwards towards your goal to pay everything and start saving a specific amount per month.
Step 2: Find a way to pay for it
Whether it means cutting down on expenses, like cutting down on takeaways or getting a side hustle, start thinking creatively. Steve Harvey says your gift is the thing you do the absolute BEST with the LEAST amount of effort. So, find a side hustle that is something you can do best in the least amount of time.
Step 3: Create an emergency or holiday fund
Your money for your holiday and Januworry should be put into a separate account. This can be an automated debit-order every month from your bank account.
Step 4: Buy food stamps or vouchers
You can buy a food stamp for as little as R10 at a grocery store or buy a voucher and add money to it every month. I remember growing up that my mother used to be part of a stokvel where she and a group of women would pay an amount of money each month, save it and then a month before the December holidays, they bought groceries in bulk for everyone in their stokvel club. These groceries included perishables and toiletries. My mom was also the one to teach me about buying food stamps every month. This can then be used during the holidays or during January when you have no more money left.

Step 5: Buy extra or lay-buy.
Another lesson my mom taught me was to buy extra of little things like toiletries or perishables. I have also heard of moms who bought their children's Christmas clothes or gifts several weeks ahead of time. I think this is a very good idea. Also, I have forgotten that one can do lay-buys until recently.
How will you be saving money for the holidays? If you have any other ideas to share on saving money, please let us know. We would love to hear your thoughts!
---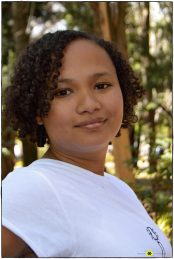 Melissa Javan is a journalism graduate, a mom to a gorgeous little girl, and wife to a musician.
She blogs about her attempts to become debt-free on Mels' Postbox.
You can also follow her on Instagram via @melissajavan.
If you found this article useful or interesting, why not subscribe to Parenty's weekly newsletter for a wrap up of that week's best content.