Mike Berridge's report shared by Storm Report South Africa stated that there was a remarkable diminution of the cyclone Idai, reports Lowvelder.
It has now once again become a tropical depression with winds scarcely reaching 25 knots (46,3 km/h).
This collapse has come at a hard price for central Mozambique, where the full force of the wind has been reduced by its impact against the land. The affected areas will by this day's end have only light showers in a 25-knot easterly wind.
ALSO READ: Parts of Mozambique have today to evacuate as Cyclone Idai hits hard
But the remaining depression "LA" contains much heavy rain. It will cross the highlands of the province of Manica to the eastern escarpment of Zimbabwe.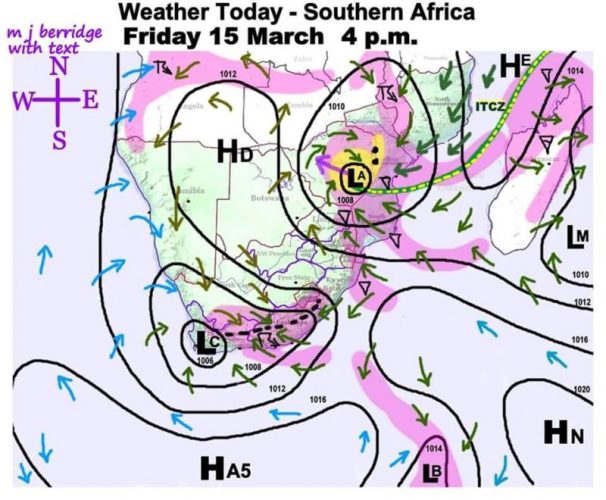 Yellow shading shows the heavy rain areas. The purple arrow shows the depression will continue to move slowly westwards carrying heavy rain into central Zimbabwe. The "fuel" for this pressure system (including the ex-cyclone) lies with the frontal zone marked ITCZ shown with a dotted green line.
This is bringing very humid, unstable air from the equatorial regions, and when this meets air masses that have come from the south, great instability and rainfall result – often leading to tropical disturbances and cyclones. This is common in the mid-Indian Ocean, where there are no land obstructions to interfere with the confluence.
Winds blowing into the depression from the south will carry some cloud and light showers for most of southern Mozambique, north-east KZN, and east Limpopo.
Rain is once again brewing in the Cape Province. This is fairly similar to last week's Low "LB", but is more stable. A dotted line shows the primary convergence zone where showers or thunderstorms are expected.
The prospective rain areas are given pink shading and extend to part of the south coast roughly between Mossel Bay and Port Elizabeth, where thunder is possible in the morning.
The extent of the damage is unknown at this stage. Reports indicate that there is no electricity or signal in the affected areas. Beira took a direct hit last night, and devastation is expected.
For more news your way, download The Citizen's app for iOS and Android.