The SA Weather Service has issued a warning for flash floods in Gauteng, Mpumalanga, and Limpopo, Pretoria Moot Rekord reports.
"In Gauteng, heavy rains will be seen over Johannesburg, Ekurhuleni, and Tshwane," the service said.
The wet weather is expected to continue until the weekend.
Friday's weather in Pretoria will be similar to Thursday's as it will be cool and cloudy with a minimum of 17 and a maximum of 22 degrees Celsius, with only a 20% chance of rain.
Saturday will be warmer with a minimum of 17 degrees and a maximum of 26 degrees Celsius, with a thunderstorm expected in the early afternoon.
See the infographic for tips on how to survive a flash flood: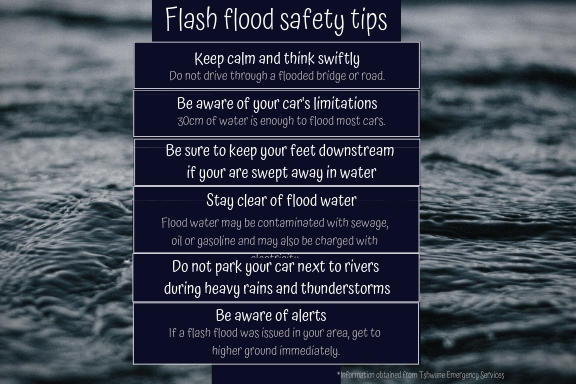 For more news your way, download The Citizen's app for iOS and Android.