At the Zondo commission of inquiry into state capture on Monday, former president Jacob Zuma made the astonishing allegation that Johann Rupert had threatened that he and others "would shut down the economy" and interfere with the rand if then finance minister Pravin Gordhan was removed from his position.
According to Zuma, Rupert said this to Minister of Transport Fikile Mbalula, who was attending an event at one of Rupert's farms back when he was still at the helm of the sports ministry.
"Indeed they did interfere with the rand," Zuma continued, adding that one person this year admitted to this.
The Citizen asked the billionaire businessman for his response, asking him to follow us on Twitter so we could message him privately.
Instead, he responded with a single word – "Mythomaniac".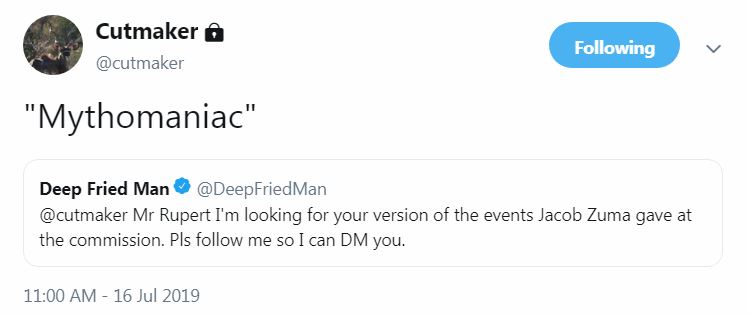 This is a term used to describe a pathological liar, and is defined by the Merriam-Webster dictionary as someone afflicted with "an excessive or abnormal propensity for lying and exaggerating".
If Zuma's story about Mbalula and Rupert was indeed a lie, as the businessman claims on his protected Twitter account under the name (@cutmaker), this could have serious consequences for the former president.
Procedural law expert Dr Llewelyn Curlewis told The Citizen on Monday that perjury was a serious criminal offence under the South African Criminal Procedure Act and the court could impose a fine or jail time of between one and 10 years. He said this was dependent on the seriousness of the perjury and how many times it was repeated.
North West University's political scientist, Professor Andre Duvenhage, meanwhile, said he would not put lying past Zuma because he had done it before, several times, and in parliament.
READ MORE: Ramatlhodi denies spy allegations, challenges Zuma to a lie detector test
"I would not be surprised because he has done it before," he said.
He didn't, however, rule out that some of what Zuma said could be true.
"Although we do not know if there is any truth that Ramatlhodi, who was once his minister, was a spy, there have been reports that many of the current ANC leaders were, in fact, apartheid spies," he said.
(Background reporting, Sipho Mabena)
For more news your way, download The Citizen's app for iOS and Android.