Facebook user Siyanda Dizzy Gumede may have gotten more of a response than he bargained for when he commented on a post on SABC News' Facebook page this morning about the breaking news that at least three school pupils were killed in a walkway collapse at their school.
Hoërskool Driehoek was being rocked by the tragedy, which also trapped other youngsters in the rubble and immediately saw emergency and department officials rushing to the scene.
Gumede, operating on the assumption that the Afrikaans-medium school could only have white pupils in it – since the race of any victim has not yet been reported on or been considered relevant to the story by any reports – said that he was unmoved by the deaths and that the world was now free of "3 future problems".
"Don't have heart to feel pain for white kids," he said, in screenshots that were taken before the comment could be deleted.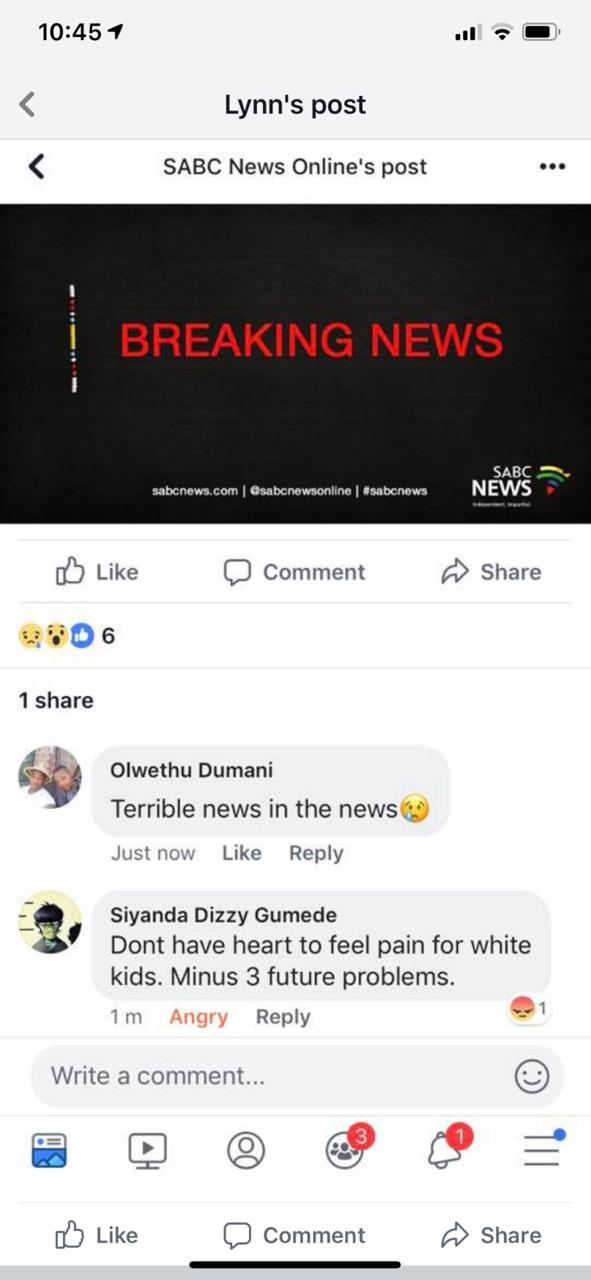 The comment was still available on the SABC's page at the time of going to press, although most of the 200 or so comments expressed sadness and sympathies about the incident.
Many black users were quick to also take Gumede to task for what they said was a crude, racist and deeply insensitive view.
Molebohe Matsapola told him: "No my bra…you are not part of the South Africa we are working towards."
Elsabè Swart added: "And for your info Mr Racist there is black kids in that school aswell!!"
Lerato Mamabolo said: "We don't wish that even to our worst enemies."
Among the nearly 70 other replies to him, Matshidiso Matla said: "You are disgusting wena..imagine if it was yur child involved in the incident."
Another user pointed out that the school was dual medium, and he was simply wrong.
Gumede has subsequently blocked his Facebook account to the public. It is currently being targeted with numerous messages of anger and outrage from, particularly, white users who want him to be found and taken to task for his callous comment.
Several of them have now also been threatening various forms of violent reprisal against him.
In his profile, he describes himself as a "Free thinker and gamer" who is into graffiti, tattoos, anime and books and lives in Mtubatuba in KwaZulu-Natal.
Gumede is not the only one who expressed the view today that the victims at the school must be white, and therefore, somehow, that this has made their deaths less of a tragedy.
(Compiled by Charles Cilliers)
For more news your way, download The Citizen's app for iOS and Android.