A Twitter account representing the Economic Freedom Fighters (EFF) in Gauteng sent out a tweet thanking members of union the National Union of Metal Workers South Africa (Numsa) for voting for them.
While on the surface a fairly innocent tweet, it is likely a dig at the newly formed Socialist Revolutionary Workers Party (SRWP) and its chairperson Irvin Jim, also the secretary-general of Numsa.
The tweet earned a retweet from none other than EFF leader Julius Malema.
The SRWP had a dire showing at the polls, earning just 24,439 votes, not nearly enough for a single seat in parliament.
This was a particularly sobering result since Numsa has 370,000 members, less than 7% of which supported a party formed by its chairperson.
READ MORE: How Irvin Jim's new party plans to hit the ANC where it hurts
The SRWP was also backed by Zwelinzima Vavi's fledgeling South African Federation of Trade Unions (Saftu), which boasts 531,000 members. This also did not translate to votes in the May 8 elections.
The party has since released a statement indicating that they had no plans of gracefully accepting defeat.
The statement describes the SA electoral process as flawed and says their experience contesting elections shows that the "bourgeois electoral system is not the solution to our problems".
It gives examples of "evidence of faults and fraud" at the hands of the Independent Electoral Commission (IEC) and concludes that it would be "impossible" for the party "to scientifically accept the accuracy of the results of these elections".
"While we had no doubts that our performance in these elections was not going to win us large votes, the figures ascribed to our votes are a joke and impossible to explain scientifically other than that the system clearly dealt with us. We are convinced history will prove us right," the statement reads.
Thank you @Numsa_Media members for voting for @EFFSouthAfrica the only genuine socialist party, we will not disappoint. pic.twitter.com/vZIhw5aFoV

— EFFJoziGroundForces (@Effgroundforces) May 13, 2019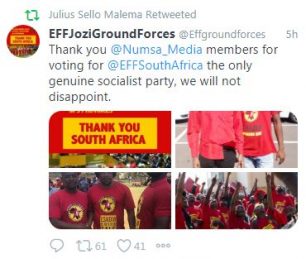 For more news your way, download The Citizen's app for iOS and Android.