"Who does that when there is traffic and people are on their way home?"
This was the shocked reaction of one witness to the cash-in-transit (CIT) heist, which took place in front of eBundu Lodge on the R40 at approximately 5pm on Friday, Lowvelder was told.
A Fidelity bakkie was attacked, first by gunfire, and then bombed, by an unknown number of armed men.
ALSO READ: Two police officers, seven robbers killed during an attempted CIT heist
The witness asked not to be named, as she didn't "want to get involved". Still, she was one of the many shocked motorists who were greeted with large guns pointing out of cars and bullets flying on their afternoon commute home from work in peak traffic.
"It was scary. I am still shocked," she told Lowvelder on Sunday. She didn't see much, but remembers two cars shooting everywhere.
"I can't remember what I did. I just closed my eyes. I turned to go back to Mbombela. Everybody was turning around."
Three people were injured. ER24 said the one guard sustained a gunshot wound to his leg and the other sustained injuries to his ear. Another woman, a passerby, was also shot in the leg.
Other people from passing buses and taxis descended on the scene to pick up money, said Jacki van Zyl. She was travelling from Mbombela. She said she saw the grey Mercedes-Benz coming up behind her and trying to push her off the road.
"He literally pushed me over and in front of the Fidelity bakkie."
"As I got into the left lane in front of the bakkie, I heard loud bangs and looked in my rearview mirror and thought the bakkie had had a blow-out and saw him lose control.
"However, I then saw men with guns and realised the Merc had stopped and it was shooting at the bakkie."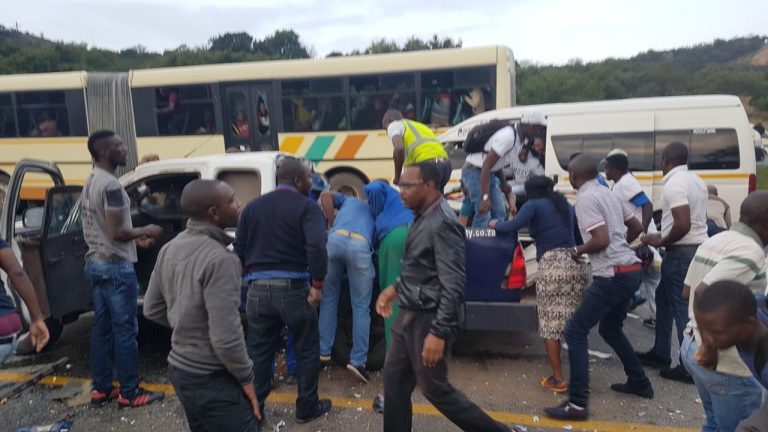 "The gunman pulled the driver out of the vehicle and made him lie face down on the middle man. They made the passenger lie down on the side of the road. There was a lot of shooting."
One gunman pointed at a Buscor bus and made him move across both lanes to close the road. She stayed on the scene.
One of the gunmen pointed a firearm at her, but she only moved forward a little. They blew up the back of the van and loaded boxes onto a white bakkie.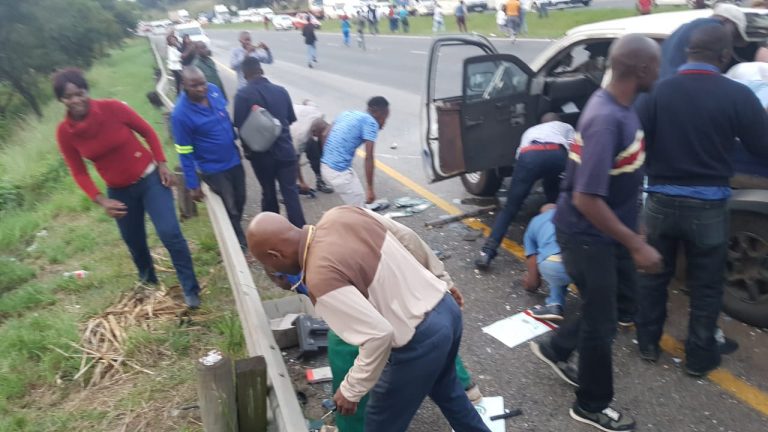 Police reacted swiftly. The Flying Squad's Capt Pieter Smit said they traced the cars to the KaMagugu Road, where a shoot-out took place.
They then swooped on a farm and Dikeledi Mabuza, 47, was arrested on the premises, where police found two of the vehicles allegedly used in the heist parked in a garage.
The Ford Ranger and Mercedes had been hijacked elsewhere, police spokesperson Vish Naidoo confirmed. Bank notes, a firearm, and money boxes were recovered in the vehicles.
On Sunday, a second suspect, a 42-year-old man, who is believed to be linked to the crime was arrested in Soshanguve, was handed over to the Hawks in Mpumalanga.
Mabuza appeared in the Nelspruit Magistrate's Court on Monday. She was charged with possession of suspected stolen money.
For more news your way, download The Citizen's app for iOS and Android.