The R555 is all but hacked up, with several sections of the tar surface stripped for repairs and the holes have been left, negligently unmarked and unattended, after construction began on Saturday.
The strips of removed tar are located in such places that vehicles have to swerve into the oncoming lane to avoid them, or hit them at full-speed, leading to damages to their vehicles, reports Middelburg Observer.
A BMW and an abnormal load vehicle are currently standing next to the road, suffering from extensive damages.
ALSO READ: WATCH: Traffic backed up in Mpumalanga after dam overflows onto highway
Middelburg Observer published an article on Monday, with a video showing unsuspecting drivers screeching to a halt as they try to avoid one of the ditches that spans across the road.
The publishing of the article came after a head-on collision took place on Saturday evening, at the very same unmarked ditch, minutes after workers left the construction site with stripped tar unattended and unmarked.
The occupants of both vehicles narrowly escaped with their lives, yet the following day, warning signs had still not been put up.
Several residents expressed their discontent, asking whether the relevant department would pay for the costs inflicted upon motorists.
Tim Phiri, the driver of the BMW, showed the journalist his two flat tyres. He estimated that repairs to his vehicle would cost him a maximum of R6,000.
"But this is just money, what about people's lives?" he asked at the scene. Tim is outraged that signs have not been put up to warn motorists of the construction, adding that it's an accident waiting to happen.
Marius Viljoen's abnormal load vehicle was parked not far from Phiri. His tyres were not only damaged, but one of the wheels broke off from the axle, leaving the axle digging into the road.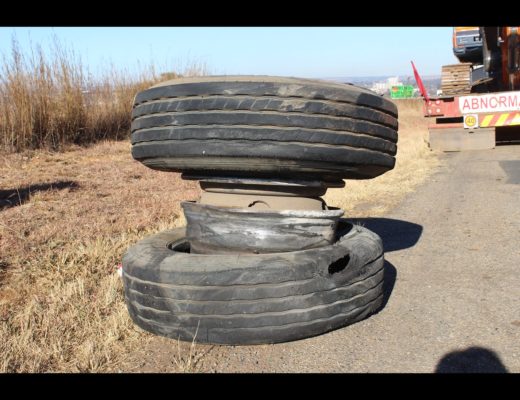 After closer inspection, it is apparent that more sections of the road have been demarcated with white paint, which indicates that more patches will undoubtedly be removed.

Middelburg Observer is still awaiting a response from the department of public works, roads and transport.
For more news your way, download The Citizen's app for iOS and Android.