Actress Pearl Thusi, who was a presenter at the Global Citizen festival over the weekend alongside other SA celebs including Anele Mdoda and Bonang Matheba, has found herself at the centre of a Twitter storm after a now-deleted tweet was considered by some to be insensitive towards the poor.
Thusi had responded to a tweet which suggested the massive concert may not end up benefiting the poor.
READ MORE: Pearl Thusi takes flak for saying she's been a victim of colourism
"Why don't you guys put together your own concert, being world leaders, make them commit money you can personally make sure reaches the poor?" she asked.
"Don't trash them unless that 3.5B is your or you arranged the event. Or is your only contribution to complain?"
Thusi was referring to the R3.5 billion that Patrice Motsepe committed to investing in land reform in South Africa at a speech at the concert, which was organised in part by his Motsepe Foundation.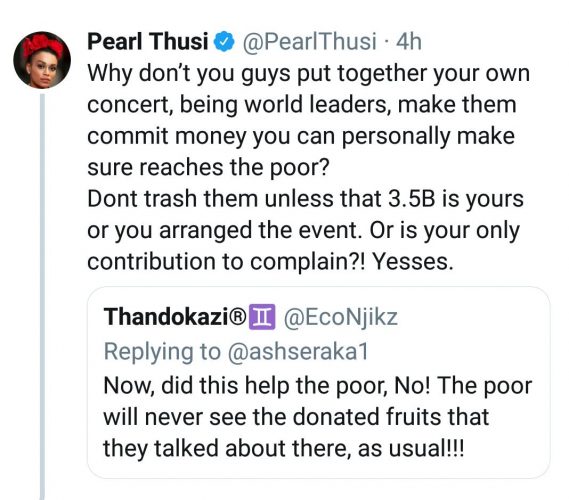 Some on Twitter reacted angrily, suggesting that Thusi's tweet showed a disregard for the poor, with some accusing her of speaking from a position of privilege.
Thusi deleted the tweet but in classic Twitter fashion, a screenshot had already been taken, with some using it to continue to share the tweet and criticise it.
Pearl Thusi is prove that celebrities mostly do not even know why they are activists. They just call themselves that because it's on trend. Yesterday you raise funds for the poor. Today you tell them to shut up and host their own concert if they want to see real change . How cute

— Zinhle Hazelbird (@zinhlemakhumalo) December 3, 2018
Did Pearl Thusi delete that tweet where she was telling us poor people to throw our own concert and invite other poor artist to come perform for us????????????????? Yazi niyadelela mak'khanya????????#GlobalCitizen pic.twitter.com/T1O6JDZB56

— The Eazy-Ed???? (@eazyed47) December 3, 2018
So @PearlThusi deleted this utter rubbish she so boldly pronounced.
So much easier for her to blubber given she speaks from a position of privilege & bountiful. Then again how we expect her to sympathize or understand our daily struggles in a dog eat dog world? pic.twitter.com/OXxvNy3ZKn

— GLOSSATOR ACCURSIUS (@GACCURSIUS) December 3, 2018
I read this 5 times, honestly I think you lost it there @PearlThusi, this woman is stating what ordinary South Africans experience, the poor in most cases don't really get benefits of such initiatives, it's a fact, ur response is condemning and heartless, I'm flabbergasted ????‍♂️

— Sthembiso (@pro4mix) December 3, 2018
The words though not strategic at all, you have admitted, no funds will be sent to the poor maybe a certain %will, you have failed as a global citizen to answer that

— Mrs Shar_Mkhize (@sweetsharmie) December 3, 2018
This is the second controversy the actress has experienced in the last few days.
Last week, she found herself highly criticised by South Africans on social media for claiming she's been a victim of colourism.
Speaking at The Next 100 Summit held at Melrose Arch in Johannesburg today, Thusi said: "For me, it's colourism, effectively. That has kind of held me back. I lost a role because I wasn't black enough. I had it and then two weeks before shooting I wasn't dark enough. I lost another role too. These things hurt when you identify with being a black woman but apparently, I've also benefited from it because I'm light-skinned. So there is a whole lot of things where women are being empowered by being black, the beautiful black women we have in the room right now."
Her followers criticised her for saying she had been a victim of colourism, when it is, in fact, a problem that affects those who are dark-skinned.
(Compiled by Daniel Friedman. Additional reporting by Vhahangwele Nemakonde)
For more news your way, download The Citizen's app for iOS and Android.