The trauma of losing three of their colleagues in Wednesday's fatal fire in Johannesburg has led to more firefighters being hospitalised.
In addition to the deaths, about eight firefighters were hospitalised for injuries and smoke inhalation. Yesterday, a ninth person was admitted to hospital due to exhaustion.
This happens as the City of Joburg emergency management services (EMS) continued battling to contain the blaze, which had spread to lower floors of the Bank of Lisbon building, but was contained last night.
Reinforcements from the Ekurhuleni and Tshwane metros and OR Tambo International Airport were called in to help.
Johannesburg EMS spokesperson Nana Radebe said while there were two firefighters taken to hospital, up to four suffered from traumatic stress and shock after losing their colleagues.
Radebe said all the affected firefighters would receive trauma counseling.
"We have reinforcements from different municipalities – City of Tshwane and Ekurhuleni – the OR Tambo fire departments who are here to assist the firefighters in ensuring that the fire is put out," she said.
"We have seen that the fire is reigniting so we are sending teams inside. We have one doing the firefighting and another one that is following them to do damping down and ensure that the fire does not reignite.
"We also have a ladder that has foam where we're reinforcing and protecting the floors where the fire has not gone to just make sure the fire does not spread to those floors as well.
"Yesterday [on Wednesday] we had eight firefighters that were sent to hospital, we just had one more from City of Tshwane that will be taken to hospital, he suffered from exhaustion and he is stable at the moment."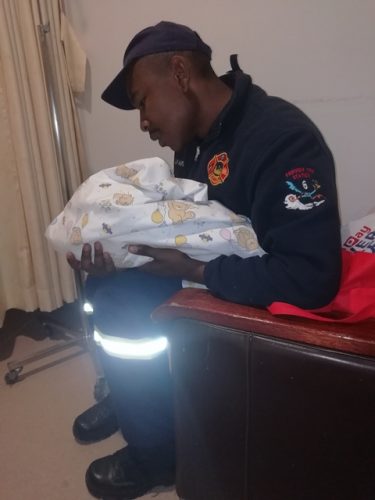 While the firefighters who died have not yet been named, a woman claiming to be the wife of one of the men has taken to Twitter, sharing photos of the man, pictured above holding a baby, she says was a father of three.
Yuri Tseke wrote: "#Joburg Fire Today I lost my husband, best friend and father to my children. I love you so much. He honestly had the most contagious smile in the world."
Twitter users reacted, offering comforting messages for the loss.
Broadcaster Iman Rappetti replied to Tseke's tweets, saying "I'm so sorry my sister. So deeply sad for your pain and loss … may love envelope you and carry you …"
– jenniffero@citizen.co.za
For more news your way, download The Citizen's app for iOS and Android.