Two armed men held up staff at Stanger Secondary School on Saturday during the school's grade eight registration, North Coast Courier reports.
The robbers allegedly took advantage of the registration to pose as potential parents and enter the school premises unnoticed.
ALSO READ: Atteridgeville school robbed for second time in one week
The school's official Facebook page posted the following yesterday:
"At approximately 12.20pm, two armed men held up the finance office taking a sum of money.
"The school's finance clerk was injured and the rest of the team (staff/ clerks/guards) have been traumatised by the events that unfolded."
"Learners attending the DoE IT Teach-a-Learner programme from both our school and visiting schools, are safe."
"For now, this all we know. The police are investigating. Should there be further developments, we will update this post."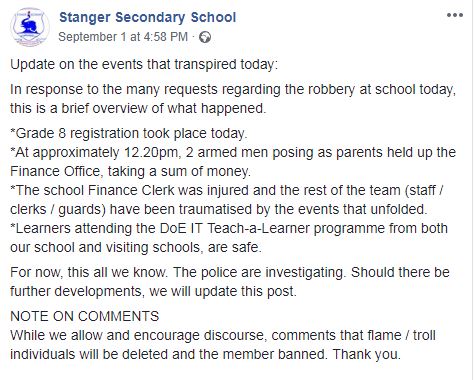 A number of parents commented on the post, many urging the school to not accept cash at the school going forward.
KwaDukuza SAPS constable Sbusiso Khuzwayo confirmed that the police were investigating the incident.
"It is alleged the men fled in a brown Polo and the registration plate was not seen."
For more news your way, download The Citizen's app for iOS and Android