A lecturer at the University of Cape Town (UCT) is in hot water on Tuesday after he posted allegedly sexist and criminally disturbing posts on Facebook in which he, among other things, admits to have wanted to rape and kill his two-year-old daughter due to his depression.
UCT said in a statement this afternoon that their executive had already met with their staff member, Arthur Mabentsela – though they did not name him – and a "formal pre-suspension hearing has been called and a formal process to investigate the matter has begun", according to the university's spokesperson, Gerda Kruger.
She added: "We have introduced due process to look into the matter and we will ensure the matter is properly investigated and dealt with."
Over the weekend Mabentsela allegedly wrote on Facebook that "when I was depressed I had thoughts of raping my own 2 year old. I wanted to kill her. I saw nothing in her. There was no love."
Kruger said: "The content of the post is grave, unacceptable and disturbing, and completely out of alignment with UCT values. It is completely understandable that the post has upset people, leading to reactions of pain and offence. This is most regrettable."
Mabentsela himself appeared to be ignorant of the meeting, though.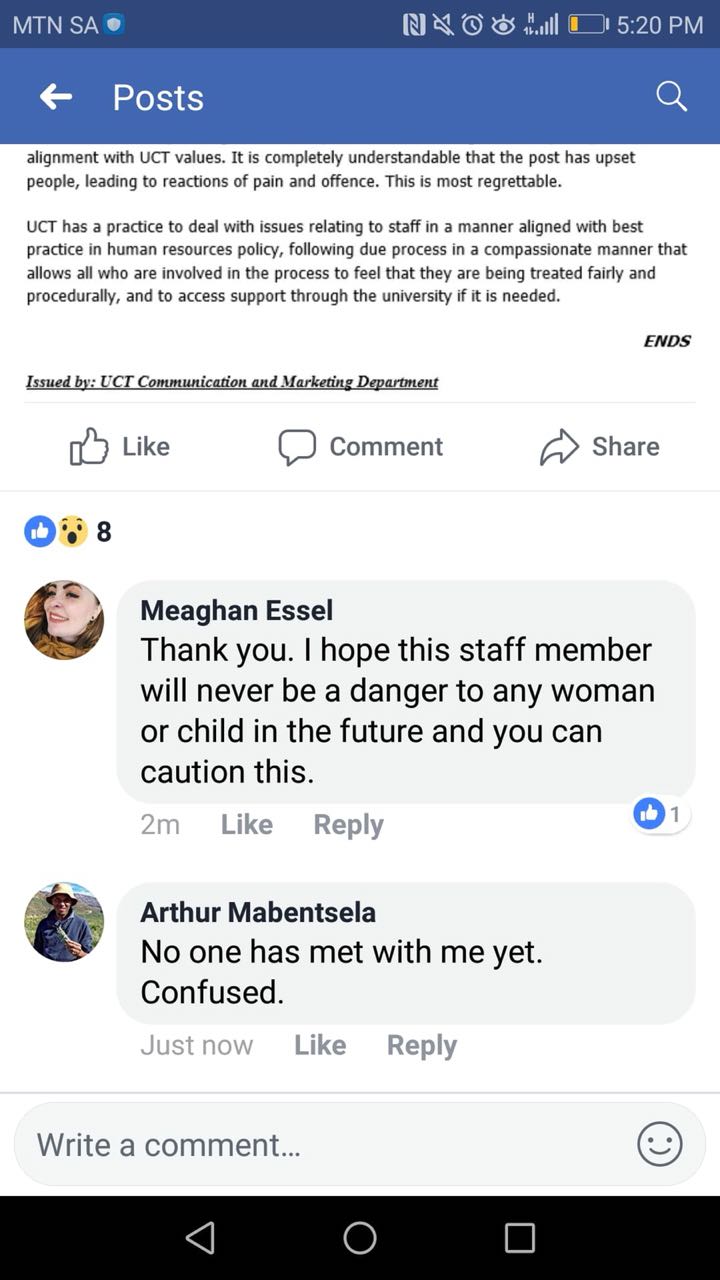 In his university bio, it reveals Mabentsela graduated with a degree in chemical engineering at UCT in 2010.
He has a master's in engineering from Stellenbosch University with three years of postgraduate experience in mining, with a special focus on processing platinum group metals. He was part of a graduate training programme offered by Anglo American Platinum.
He has been a lecturer at UCT's department of chemical engineering since the start of 2015.
In another post decried as allegedly sexist, Mabentsela advised women to, among other things, stop calling men trash because they weren't able to attract a "quality man".
He alleged that women shouldn't have ignored nerds at school and suggested that they were too promiscuous.
"Close your legs and open your ears," was one choice piece of advice, to which he added: "Listen when a real man talks. But just check all the hoes gonna jump and defend their trash ways."
Some on social media brought the posts to light on Tuesday morning.
In another, older post, Mabentsela also seemed not to like Asian people.