With the festive season in full swing, many South Africans have taken to the roads and, while many accidents have already dominated headlines, the Road Accident Fund is inspiring the public to share their life stories, with the motto that everyone's life matters and everyone has a story to tell.
A statement on the Arrive Alive website quotes the Road Accident Fund's CEO, Eugene Watson as saying the distance of the journeys is not important, but rather safety should be the top priority. Watson said the roads carry many stories as everyone has news to share at this time of year – such as exam results or family news – so it is important to ensure the journeys on the road end well.
The new messaging reinvigorates the RAF's #MyRoadYourRoad road safety campaign, which aims to evoke empathy and encourage a sense of community among road users.
RAF chief marketing officer Phumi Dhlomo is further quoted as saying that the #MyRoadYourRoad concept aims to pull on people's heartstrings in a bid to urge them to drive safely so that they can share their stories from the year.
Here are some of the stories posted on the RAF Facebook page:
Many Facebook users have taken up the RAF's challenge of posting a pic of themselves and their families taking a break from driving to stretch their legs: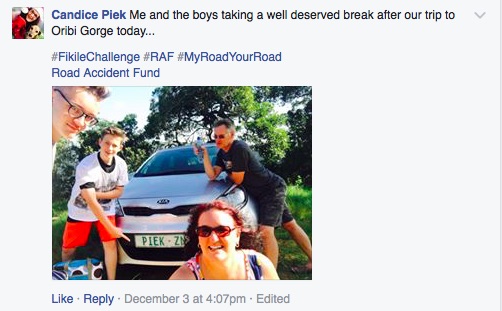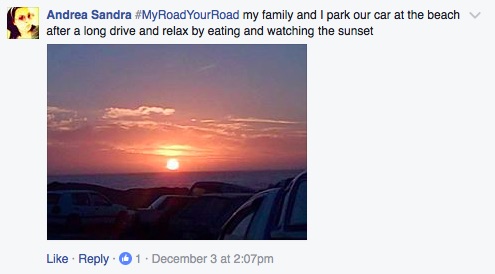 The RAF has also been visible on the roads and in communities promoting the campaign and urging the public to be safe on the roads, as seen by these Twitter posts:
RAF services at Ilanga Mall in Mpumalanga from today until 19 December 2016 #roadsafety #myroadyourroad pic.twitter.com/brk8NBg3GK

— IG: RAF_ROAD (@RAF_SA) December 14, 2016
Durban North Beach #RoadSafety drive underway (RAF services on also on offer) #MyRoadYourRoad @eThekwiniM pic.twitter.com/OU6zbDKavy

— IG: RAF_ROAD (@RAF_SA) December 14, 2016
Gearing up for the #FestiveSeason on the N12 with Premier Makhura pledging his commitment for safer roads #MyRoadYourRoad #KeepGPSafe pic.twitter.com/lneibDhBBt

— IG: RAF_ROAD (@RAF_SA) December 14, 2016
For more news your way, follow The Citizen on Facebook and Twitter.