When a customer enters the Hadaf restaurant in the capital's business district, nothing indicates that many of the staff are disabled in any way.
Take Amr, an enthusiastic 28-year-old in a crisp white shirt and black trousers.
He scouts the street for prospective clients as front of house staff add vases as the finishing touches to tables.
"I first learnt in the canteen," Amr said.
"Now I take orders from customers in the restaurant — I like the contact with them, getting to know each other," he added.
The experiment was launched by a local association created by parents to shake up prejudices and serve as a springboard for young people with mental disabilities.
The jobless rate for such people is 47.65 percent, four times the average in a country which has 2.3 million disabled, according to a study published last year by the families ministry.
Soumia Amrani is on the board of a human rights group and the co-chair of a disability-focused collective.
She believes the battle to integrate must begin at an early age.
"You can't prepare children to be sociable and learn to join society if they stay on the margins of that society," she said.
"They must be inside society to learn with everyone else."
– Constitutional rules –
In the kitchen at Hadaf, 28-year-old Moed, chef's hat perched on his head, is delighted to have a trade after spending just three years in primary school.
"I've learnt a lot from my colleagues. I'm very happy and my family is proud of me," he said.
Morocco's 2011 constitution says those with disabilities should be able to "integrate and rehabilitate into civil life".
But things are different in reality. Just 41.8 percent of disabled youngsters aged between six and 17 go to school, and in the six to 11 range that figure falls to 37.8 percent.
Another indicator that there is a problem is that a third of homeless people suffer from some form of disability.
"This restaurant? It's a good thing for me and the customers," said Moed as he chopped parsley for the salad of the day, all grown from the restaurant's own organic garden.
Other young people busied themselves at the kitchen work surfaces as skewers of meat sizzled on the flames.
The restaurant is part of the Hadaf Centre — Hadaf means "goal" in Arabic — that was established 20 years ago by a group of parents and friends of people dealing with mental disabilities.
Today, it looks after 90 young people in the greater Rabat area, with more on the waiting list.
In addition to the catering business, others undergo training in such diverse areas as gardening, jewellery-making, carpentry and sewing.
Their studies have to be paid for, unless families are too badly off to afford them.
– Strength in numbers –
Amina Mesfer is the driving force behind the project. She has an adult son of 38 with mental and sight disabilities.
"It became clear to me very quickly that I couldn't do everything on my own, but that getting a group together meant we could work on solutions," she said.
"There were care structures in place, but only until they were 21 — as if a mental disability miraculously evaporates at that age — and then our children were left to their own devices."
In the dining room at Hadaf, business was brisk as Fati Badi polished off her creme caramel.
"It's the first time I've been here, and I'm very pleasantly surprised," she said, having come to dine with a friend.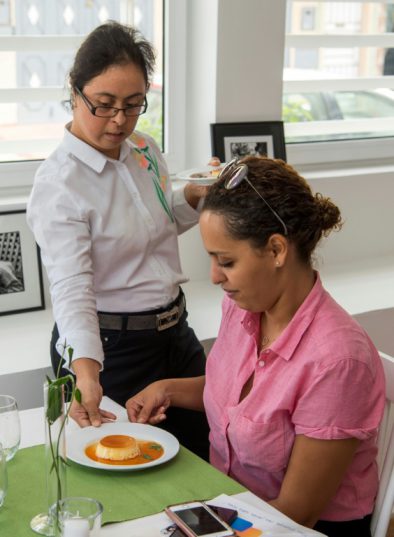 "Nice surroundings, the quality of the service and the food — it's all here.
"They've set an example — it's a way of empowering people with disabilities in the best way possible."
The Hadaf Centre also has a guest house that provides some income and gives the young people the chance to socialise, said Mesfer.
Since 2016, a centre funded by the Mohamed VI Foundation has provided training and diplomas.
Five students trained by Hadaf have already been able to obtain certification there — basically a passport to a job.
Which is exactly what Amr hopes will happen.
"When I've learnt my trade well, I'd like to work in a restaurant or hotel," he said, a great big smile on his face.