Twitter appears to be having a field day taking jabs at Nigerian star goalkeeper Francis Uzoho.
The Nigerian goalkeeper is trending after a satirical news site claimed he said happy birthday to his '17-year-old' son. The plot twist is that Uzoho is only 19, according to Google.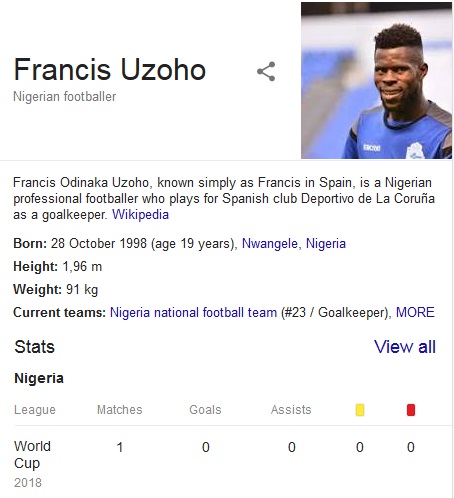 Social media has been having a field day at the news posted on satirical site News@7, which claims Uzoho wished his son a happy birthday on June 18.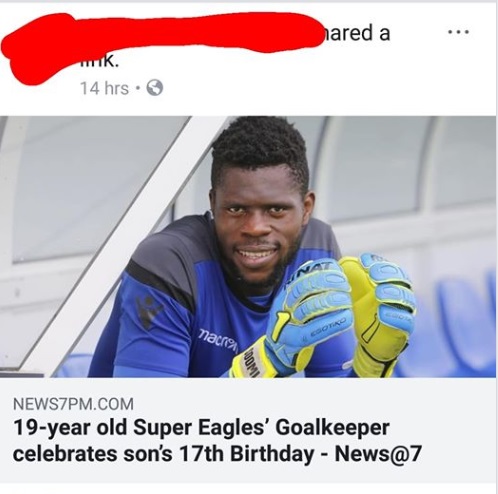 The Facebook post of the birthday wishes, however, could not be found on Uzoho's Facebook timeline.
According to the satirical site, the post read: "Wow my second son Michael is 17 today. I seek for God's blessings for him. Daddy loves you, boy."

It is unclear how social media concluded the news was true, but that did not stop them from wishing the footballer's son many more years.
Meet the "19 year-old teenager" who is Nigeria's #WorldCup Goalkeeper!

I think I'm 7 years old right now! ???????????? pic.twitter.com/QeHiF6HJXh

— Ciku ???????? (@Ciku_Muriithi) June 17, 2018
This Francis Uzoho matter, all I can say is that: People are very stupid.

How can someone say this guy here (check arrow) had 12-year old kid at this time?

Shame pic.twitter.com/xi1Tsseg3s

— Fisayo Dairo (@FisayoDairo) June 19, 2018
I was doing some research on Francis Uzoho ahead of an interview with the player some weeks back. Did he get a medal at the Fifa Under-17 World Cup back in 2013? Came across some pictures and a video here – https://t.co/PciGG8GwQX pic.twitter.com/rryGofs41R

— DA. (@debolaadebanjo) June 19, 2018
For doubting Thomases or thos still arguing if Francis Uzoho is 19.Look at these pictures at the FIFA U-17 World Cup in 2013 nd compare his to when Lukaku was 16 in the third picture. Please Nigerians some people ar older than their age#SterlingBank #YourSportsMemo #WorldCup pic.twitter.com/4fu55yICdR

— Queen john (@Queenjohn4) June 19, 2018
On the left is the alleged "19-year-old" Nigeria goalkeeper Francis Uzoho and on the right is my young brother 22-year-old Sboniso. Who is older between the two? #CRONGA pic.twitter.com/J8eF7FERWJ

— Mfana kaMshengu (@Mshengu_1) June 16, 2018
Congratulations to Nigeria goalkeeper Francis Uzoho, who is only the fourth teenager in history. #WorldCup pic.twitter.com/Z2LYO4JXyE

— dislocated shoelace (@GranitJacka) June 16, 2018
I present to you our young keeper.
Maths question :if francis uzoho is just 19, how old are you?
Let's see those that are good in Maths. ???????? pic.twitter.com/9IqJuu9cuR

— worldcup Russia 2018 final???????????????? (@DonHotkay) June 16, 2018
Wizkid is 27yrs Old
Francis Uzoho is 19yrs Old.
The Nigerian Goalkeeper is so young ????????#WorldCup2018 #Worldcup2018Russia pic.twitter.com/1wFwL3qg96

— HIGHES➕ ???????? (@FreshKarim) June 17, 2018