Pretoria residents are shocked after a grisly discovery of the inside of a milk carton revealed some disturbing secrets.
The resident, Paula van Vuuren, posted on a Facebook group photos of a milk carton with "something growing inside", Pretoria North Rekord reports.
READ MORE: SPAR Eastern Cape declares war on plastic bags
Van Vuuren said that her sister bought the milk at a Spar in Rietfontein.
"My sister poured the milk into her coffee and reported a strange aftertaste," van Vuuren explained.
"The milk didn't smell sour, which is why she couldn't understand what may have caused the strange taste – until she opened the milk carton."
She said that a black 'growth' was found inside the carton.
"At first glance, my sister thought it was a dead mouse, and promptly vomited," she explained.
"She went in for a closer look and said it looked more like a mushroom that had grown inside the milk carton."
Van Vuuren said her sister took the box of milk cartons back to the Spar, where she was reimbursed with fresh milk.
Spar marketing manager Jerome Jacobs said this is the first time that he had seen something like this growing inside a milk carton.
"This is definitely an isolated incident," Jacobs assured residents.
"It is possible that the carton was damaged, but this will be determined after tests have been conducted.
"We are committed to bringing only the freshest products to our customers."
See the Facebook posts and comments below: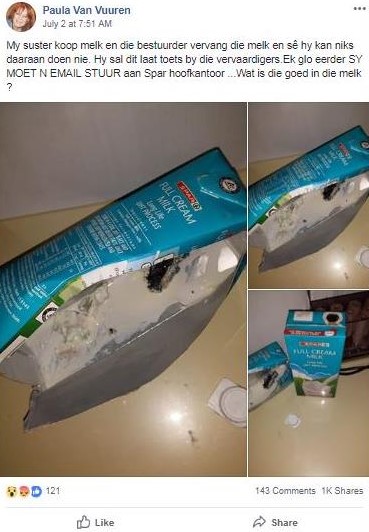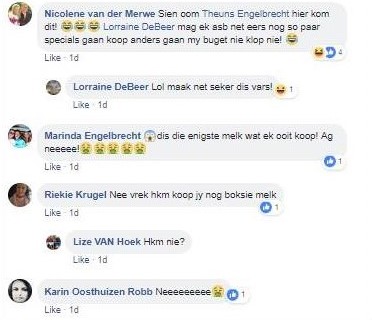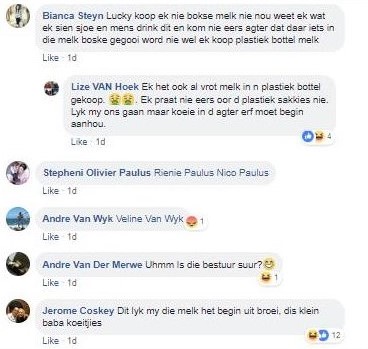 This article was translated from Afrikaans. 
For more news your way, download The Citizen's app for iOS and Android