As the nation watches eagerly to see if Zuma will give in to the request by the ANC top six to leave office ahead of the state-of-the-nation-address on Thursday, social media has generated memes about the political saga.
On Sunday, Zuma met with officials in Pretoria at his official residence. The meeting is understood to have lasted an hour and ended at 10pm. A stalemate was allegedly reached, with Zuma outright rejecting the proposal for him to willingly resign.
Instead, he said he was not going to tender his resignation. The ANC's national working committee is set to convene today at 2pm.
See the memes below: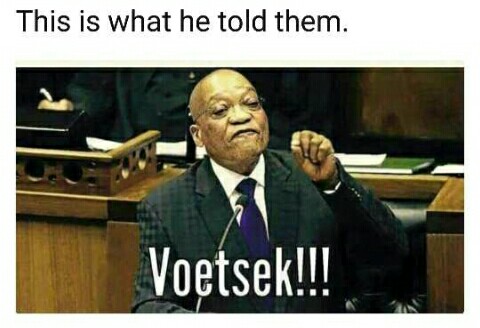 He never had any intention of leaving. ????????????????. #Zuma pic.twitter.com/WGKgLL2KzG

— Thoriso (@ThorisoMeg) February 5, 2018
His name is Jacob Gedleyihlekisa Phunyukabemphethe Zuma!! ???????? pic.twitter.com/dHWs6tdx8z

— The Black Widow???? (@nandi_thobela) February 5, 2018
Jacob Zuma to the ANC top top 6 and the rest of SA last night. @khayadlanga #ANCTop6 #Zuma pic.twitter.com/y5TnveSE0e

— Onke Metse™ (@karl_nicky) February 5, 2018
The next strategy: Avoid eye contact with anyone who talks about resignation! #LuthuliHouse #ANCTop6 #Zuma pic.twitter.com/w6JXsi64cO

— Mpho Lakaje (@mpholakaje) February 5, 2018
For more news your way, follow The Citizen on Facebook and Twitter.