The rainfall that has been experienced in drought-stricken provinces such as the Free State and North West could assist farmers prepare for the Winter season, Agri SA said on Tuesday.
"Some of the farmers have already started planting sunflower, but the other major challenge farmers are facing ahead of the winter is from a red meat's perspective.
"However, if we continue to receive more rain, then this should assist us even better for the next planting season," Agri SA executive director, Omri van Zyl told The Citizen.
He reiterated that there is no other option, except to import six million tons of maize, which is abnormally high. "Over the past two years, the price of maize doubled," said van Zyl.
Meanwhile the much needed rainfall that has been pouring down recently, particularly in the drought-hit province of the Free State, is expected to continue on Tuesday afternoon, the South African Weather Services said.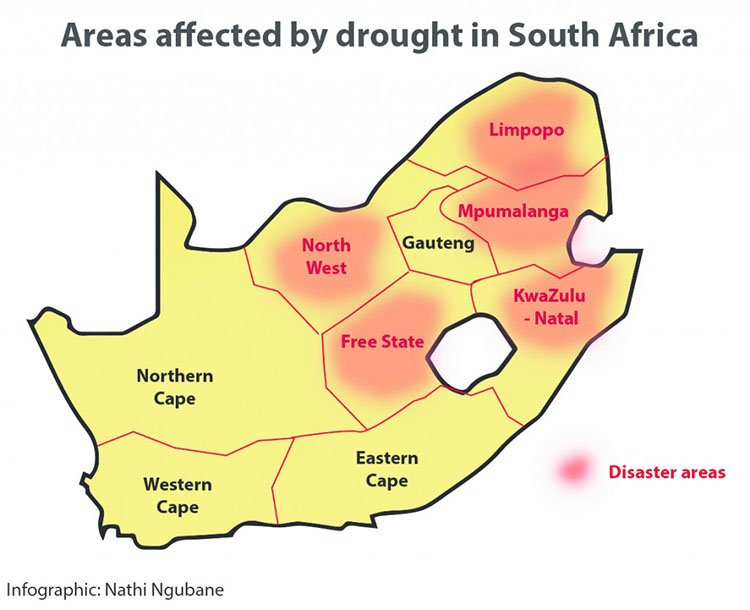 Forecaster Victoria Nurse said residents there can expect a 60% chance of scattered showers and thundershowers in the south-eastern parts, and 30% for the rest of the province.
Temperatures are set to remain in the warm category. Elsewhere in Gauteng, similar weather conditions are expected to persist, with a 60% chance of showers and thundershowers expected in the southern parts of the province, and 30% in the northern parts.
Temperatures are also set to remain in the warm category. In another drought-hit province, North West, residents can also expect a continuation of some rainfall that has been falling there over the couple of days.
"We are expecting a 30% chance of rainfall, with temperatures set to range between warm and hot," Nurse said.
Residents in the lowveld of Mpumalanga can expect a 30% chance of showers and thundershowers and a 60% over the extreme south western parts of the province. Another area where rainfall is on the cards, is KwaZulu Natal, where there is a 60% chance from Ladysmith, going westwards and a 30% from Pietermaritzburg going westward.
Temperatures are expected to be in the warm category. Meanwhile the heatwave that has gripped several parts of the Western Cape, is expected to break on Thursday.-stevent@citizen.co.za