As of Monday, 18 January 2021, the cumulative number of detected Covid-19 cases is 1,346,936 with 9,010 new cases identified, Health Minister Zweli Mkhize has confirmed.
344 more Covid-19 related deaths were reported, with 66 from Eastern Cape, 11 from Free State, 63 from Gauteng, 91 from Kwa-Zulu Natal (KZN), 12 from Mpumalanga, 13 from Northern Cape and 88 from Western Cape.
This brings the total number of Covid-19 related deaths to 37,449.
"We convey our condolences to the loved ones of the departed and thank the health workers that treated the deceased," the minister added.
Recoveries now stand at 1,117,452, representing a recovery rate of 83%.
ALSO READ: Nearly 17k patients in hospital as SA tops 37k deaths
Meanwhile a total of 7,653,371 tests have been completed with 39,901 new tests conducted since the last report.
During a a panel discussion on Monday evening, Mkhize revealed that South Africa has seen some promising signs of decline in Covid-19 transmissions. As of Sunday, the country has seen a 23% decrease in cases compared to the previous seven days.
The minister also indicated that the South Africa's health care system continued to experience significant strain with hospitalisations continuing to trend upwards, showing an 18,3% increase on 16 January compared to seven days prior.

READ MORE: KZN to work on Covid-19 vaccination sites as it prepares for arrival of vaccines – Zikalala
Here are the latest developments in the coronavirus crisis:
Jabs for seniors 
France and Britain join a growing list of nations starting mass vaccinations for the elderly with London extending its campaign to everyone over 70 and the French drive covering all people over 75.
Rich 'me-firsters' lashed 
The World Health Organization denounces the "me-first" attitude of wealthy nations in obtaining vaccines and blasts manufacturers for chasing approval in rich countries rather than submitting their data to the WHO to green-light global use.
China growth at 40-year low
The pandemic has a "huge impact" on China's economy, which grew at the slowest pace in more than four decades last year.
'Experiment on humans' 
Israel has secured a huge stock of Pfizer jabs partly by pledging to share impact data quickly with the company, with one privacy specialist describing the rollout as "the biggest experiment on humans in the 21st century".
Aussie borders stay shut
Health department minister Brendan Murphy says he does not see normal travel being allowed to and from Australia this year.
Malawi lockdown
Malawi is set to roll out restrictions this week after overruling a decision by the High Court barring the government from confining citizens.
Save Eurostar
British business leaders call on the government to rescue cross-Channel train operator Eurostar after the firm said it was close to collapse following border closures.
Salesman spreader
Nearly three million people are under lockdown in China after a surge in cases linked to a travelling salesman in the country's northeast who gave healthcare workshops to middle-aged and elderly residents.
Slovakia mass testing
Slovakia begins a new round of nationwide screening – a process aimed at easing curfew restrictions for people who test negative.
More than two million dead
The pandemic has killed more than two million people worldwide, according to a tally compiled by AFP on Monday at 1100 GMT based on official figures.
At least 2,031,048 people have died of the virus since it first emerged in China in late 2019.
The US has suffered the highest death toll with 397,600 fatalities, followed by Brazil with 209,847 and India 152,419.
The number of deaths globally is broadly under-estimated. The toll is calculated from daily figures published by national health authorities and does not include later revisions by statistics agencies.
Japan PM under fire
Yoshihide Suga pledges to tackle surging cases and restore normal life "as soon as possible" as polls showed plunging support for his government.
Subdued ceremony?
Tokyo Olympics organisers say they will slash the number of athletes at the opening and closing ceremonies of this year's virus-delayed Games.
Darkest Peru 
Two bears from the species said to be the inspiration for the children's book character Paddington are spotted exploring the ruins of Machu Picchu, where tourist numbers have fallen due to the pandemic.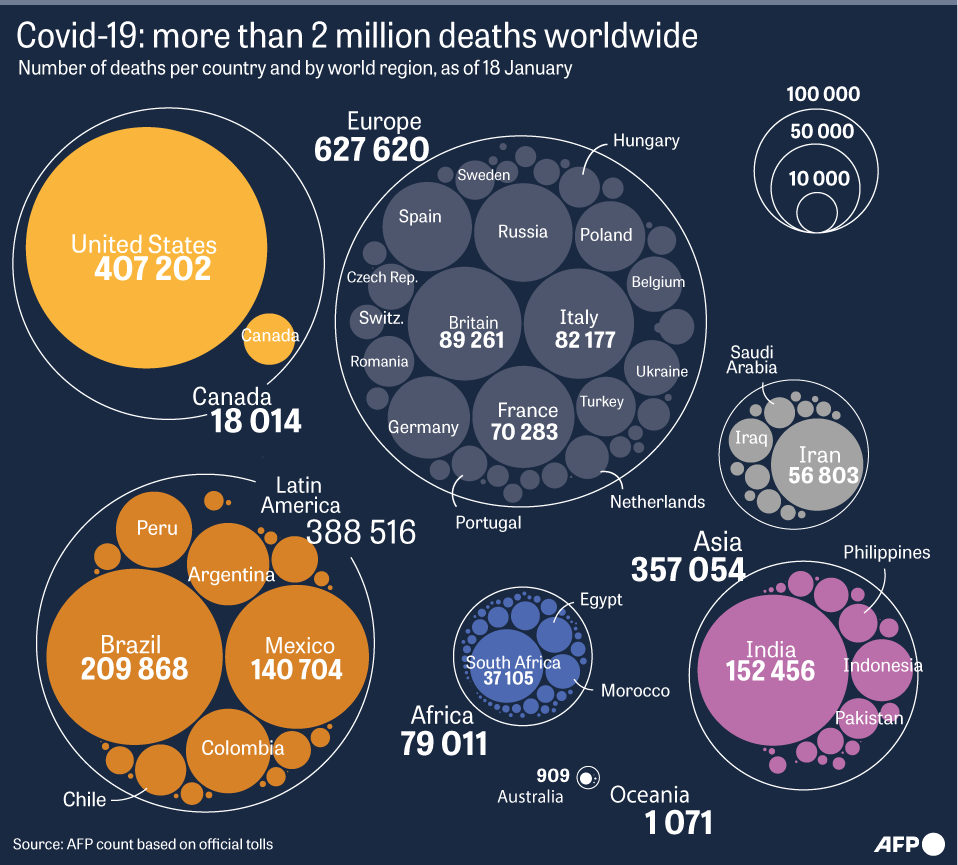 READ NEXT: 270 million Covid-19 vaccines secured for Africa
For more news your way, download The Citizen's app for iOS and Android.