Health Minister Zweli Mkhize reported "with concern" on Friday that the new cases identified in the previous 24 hours were 3,105. This gave a cumulative total of Covid-19 cases in South Africa of 762,763.
"We wish to highlight that we have breached the 3,000 mark for daily new cases. Of these new cases, more than half (54,4%) are from the Eastern Cape.
"We are also concerned that the positivity is at 12%, which is higher than what is ideal, i.e. 10% or less," Mkhize said in a statement.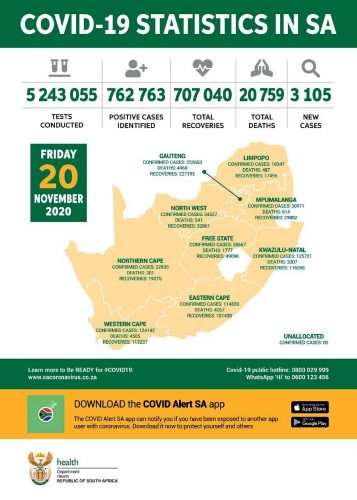 "Regrettably, 88 more COVID-19 related deaths have been reported: Eastern Cape 67, Free State 15, Gauteng 2, Kwa-Zulu Natal 1 and Western Cape 3. This brings the total to 20 759 deaths.
"We have noted that the number of new deaths being reported daily in the Eastern Cape is rising as well.
"We extend our condolences to the loved ones of the departed and thank the healthcare workers that treated the deceased patients," Mkhize said.
"Our recoveries now stand at 707,040 which translates to a recovery rate of 92,7%."
Meanwhile, an emergency use authorisation request for the Covid-19 vaccine developed by Pfizer and BioNTech was expected to be filed with the FDA on Friday, the US government and BioNTech's co-founder said.
This type of Food and Drug Administration authorization is temporary or conditional and is granted in response to an emergency situation such as a pandemic.
"Pfizer's partner BioNTech has announced that tomorrow they intend to file for emergency use authorization at the FDA," health secretary Alex Azar told a press conference Thursday in Washington.
BioNTech co-founder Ugur Sahin earlier told AFP in a Zoom interview: "The documents will be finalized today and tomorrow and submitted to the FDA."
The FDA did not say how long it would take to review the data on vaccine efficacy and safety, the two main criteria.
The scientific head of the US operation to develop a vaccine, Moncef Slaoui said Monday that the green light would probably come in December — a timeframe echoed by Sahin.
He told AFP there is a chance they could receive the green light from the US "this year," and even starting delivering the vaccine by December.
The BioNTech/Pfizer shot and another one being developed by US firm Moderna have taken the lead in the global chase for a vaccine, after large-scale trial data this month showed that their jabs were around 95 percent effective against Covid-19.
For more news your way, download The Citizen's app for iOS and Android.