The Gauteng province has officially overtaken the Western Cape as South Africa's Covid-19 hotspot with the highest number of cumulative, confirmed cases.
In a late night statement, Health Minister Zweli Mkhize announced that 224,665 confirmed cases had been identified in the country so far.
"Regrettably, we report a further 100 Covid-19 related deaths – 2 from Limpopo, 18 from KwaZulu-Natal, 15 from Mpumalanga, 18 from Eastern Cape, 47 from Western Cape," the statement reads.
ALSO READ: Gauteng prepares mass graves as Covid-19 infections increase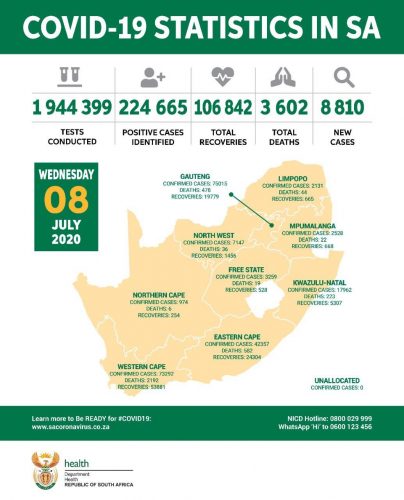 "This brings the total deaths to 3,602 We convey our condolences to the loved ones of the departed and thank the health care workers who treated the deceased.
"The number of recoveries is 106,842, which translates to a recovery rate of 47.5%."
In terms of provincial breakdowns, Gauteng now has 75,015 cases in total, compared to the Western Cape's 73,292. Combined, the two provinces account for 66% of all cases.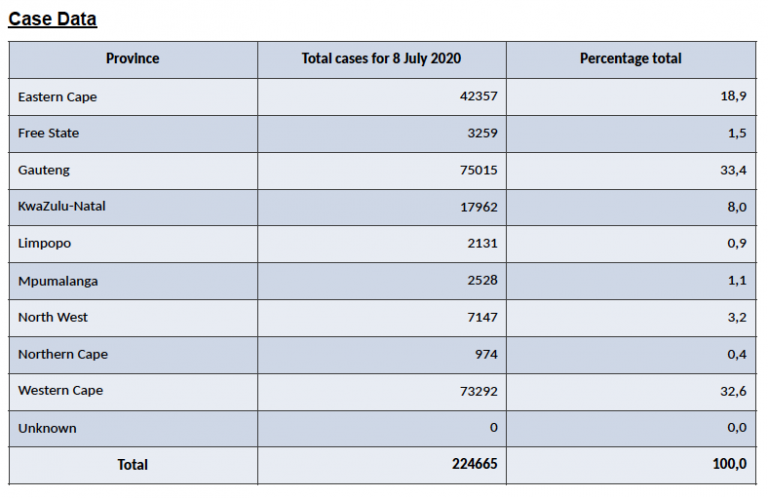 Briefing parliament on Wednesday, Mkhize said both Gauteng and the Eastern Cape will reach their capacity when it comes to hospital beds for both ICU and non-ICU Covid-19 patients within the next four weeks.
To remedy this, the minister said that the department of health has developed and is implementing what it calls the "Surge Strategy" in anticipation of the peak.
"This will ensure that the department increases capacity for Covid-19, while at the same time continuing to deliver other health services to the health care users. During this process, the Department repurposed a total of 27,467 beds for Covid-19, which has increased to 40,309 beds as the provinces started to experience a sudden increase in the number of cases."
The country's number of infections is still expected to peak in August, however, according to the minister, they will peak at a rate lower than expected due to the fact that "not that many people were infected in May and June," when compared to earlier projection statistics.
For more news your way, download The Citizen's app for iOS and Android.