Nobody knows what could have possessed the ANC election head Fikile Mbalula to make fun of an ordinary Twitter user for declaring her support for the EFF but it seems Mbalula got more than he bargained for when he chose to pick a fight with Twitter user @sewela31.
Shortly after she decided to join in on the weekly #EFFRedFriday hashtag, Mbalula responded to her post with some innuendo.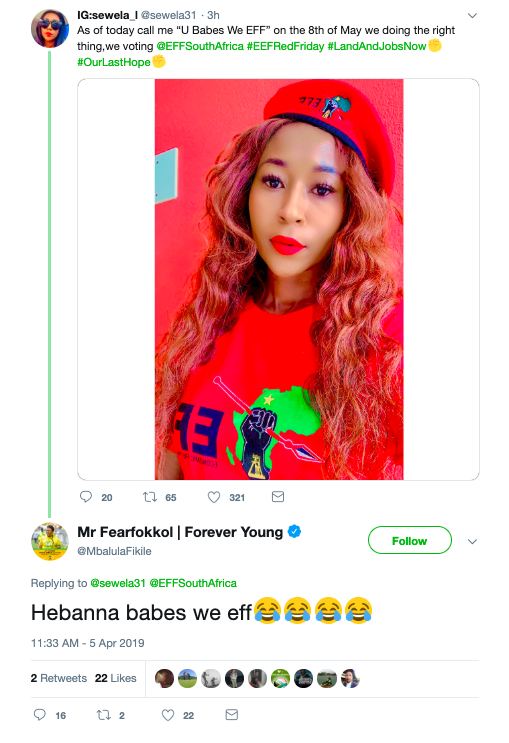 @sewela31 was not having it and she quickly corrected the ANC member before making a veiled threat alluding to the fact that she knew something about him that no one else did.
EFF leader Julius Malema later intervened, telling Mbalua to "be warned".
Mo lese a ntsebe gabotse.ketla mo segisha ka batho.

— IG:Sewela_Babes_We_EFF (@sewela31) April 5, 2019
And it seems as though Malema's intervention worked as Mbalula left the exchange at that and went on to tweet about other things.
However, @sewela31 has left Twitter users dying to know what she has on Mbalula.
Tell us babes wa EFF pic.twitter.com/6nXBStl9yt

— #StayatHomeZA ???????? (@Bathini18) April 5, 2019
The Mbaks I know will never surrender unless you have something on him pic.twitter.com/biPYK7hVV2

— Lenyora (@Tau_Lenyora) April 5, 2019
Bua Babes We EFF re mametse. #EFFRedFriday .

— lucky khambule (@utlwisisang) April 5, 2019
Babes wa EFF re botse ditaba tuu

— Baslulu???????? (@KgosietsileLek5) April 5, 2019
READ NEXT: Mbalula slammed by DA, Malema for blaming Alex shutdown on Mashaba
For more news your way, download The Citizen's app for iOS and Android.