Parents of pupils at Hoërskool Driehoek in Vanderbijlpark Park were beside themselves with grief and shock yesterday after a large cement walkway collapsed, killing three pupils and injuring dozens more.
The incident occurred just after school assembly as pupils were going to class on the two-metre high walkway.
At least four children, two girls and two boys, were in a critical condition.
Parents rushed to the scene after the school contacted them. In a panic-stricken scramble to find out which children were involved, one parent reportedly died on the way to the school in a head-on collision.
The tension and grief was palpable on the school grounds where some parents comforted each other and others stood shell-shocked and traumatised. Parents of the pupils who were killed were taken for counselling. One parent said she was too shaken to talk, but was relieved that her child had not been involved in the accident.
Pastor Gracious Mbewe of the Rhema Christian Church was on the scene comforting parents. She said the accident was completely unexpected as it was not known that the school had any structural problems.
"The only school we knew of that had problem with infrastructure was Prestige and then something happens in this school.
"A lot of our kids walk to these schools every day and little do we know that they are walking in the valley of the shadow of death," she said.
The clergywoman said she wished the parents strength in this difficult time.
"What I want to say to people out there is as much as we are busy as parents, let's give time to our children because just imagine: they woke up this morning and rushed to work only to hear that it was for the last time … you get that phone call from the school saying your child has passed.
"As a community, we are grieving with the parents and wish those injured a speedy recovery."
A police inquest was opened and the school declared a crime scene shortly after the bodies were retrieved from the rubble.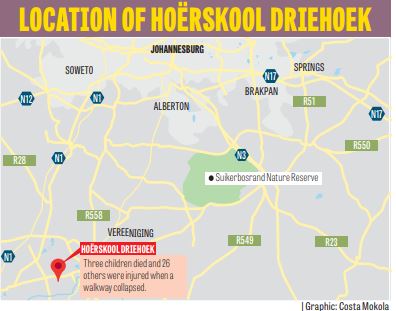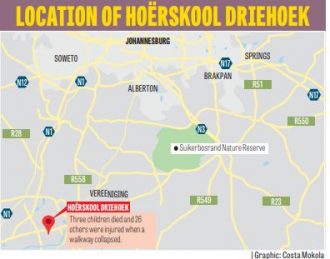 Newly inaugurated Emfuleni mayor Reverend Gift Moerane turned his car around and rushed to the scene when he found out about the accident.
"I watched when they were taking the bodies out – it was a struggle and finally they did.
"So, the sad part now is identifying the remaining two bodies because they are badly injured.
"As a council, we are waiting to hear from the department of education and the school about the role that the municipality can play … in terms of support."
He said the experience showed the importance of local government and that much was expected of them in terms of ensuring the safety of public infrastructure.
– simnikiweh@citizen.co.za
For more news your way, download The Citizen's app for iOS and Android.