A salon in Garsfontein, Pretoria, shut its doors on Monday after a tweet from an EFF member alleged a woman who rents a space inside the salon had been taking down posters advertising the party's manifesto launch.
Tyrone Mkansi, who does media and communications for the EFF, took to Twitter to share the removal of the poster (he alleged multiple posters were removed) and to accuse the woman of being "racist". We have sent Mkansi a number of questions and will update this article with his answers, which had not yet been received at the time of publication.
The woman spoke to The Citizen, admitting to having removed one poster, which she said she put "neatly" in the back of the salon. Removing posters is illegal, according to the Independent Electoral Commission (IEC). She said the poster had since been restored to its position, which the owner of the building had confirmed.
She said she was worried about reopening the business, saying the EFF members who confronted her were threatening.
"I worry about going back, especially because I am a woman and the people who were here were all men," she said.
READ MORE: EFF announce their election manifesto date
According to the woman, a man from the EFF was "waiting for me outside" the salon.
The EFF laid charges against the woman, who in turn has laid charges against the party.
"The police were very helpful," she said. "The EFF laid a case against me. The police told me it's such a small case and a waste of their time".
She also said the racism charges held no weight. She said the EFF took a video of the incident and that she "didn't say anything" racist. She said this was why she believed no-one from the party had shared the video.
While she acknowledged that the poster should not have been removed, she feels the response wasn't justified.
One person "threatened to strangle" her on social media, she further alleged.
In another article, The Citizen has since reported that the salon was vandalised. The steps and entrance of the salon were left dripping with milk, with ham sandwiches smeared on the windows, and a line of EFF posters stuck on the doors.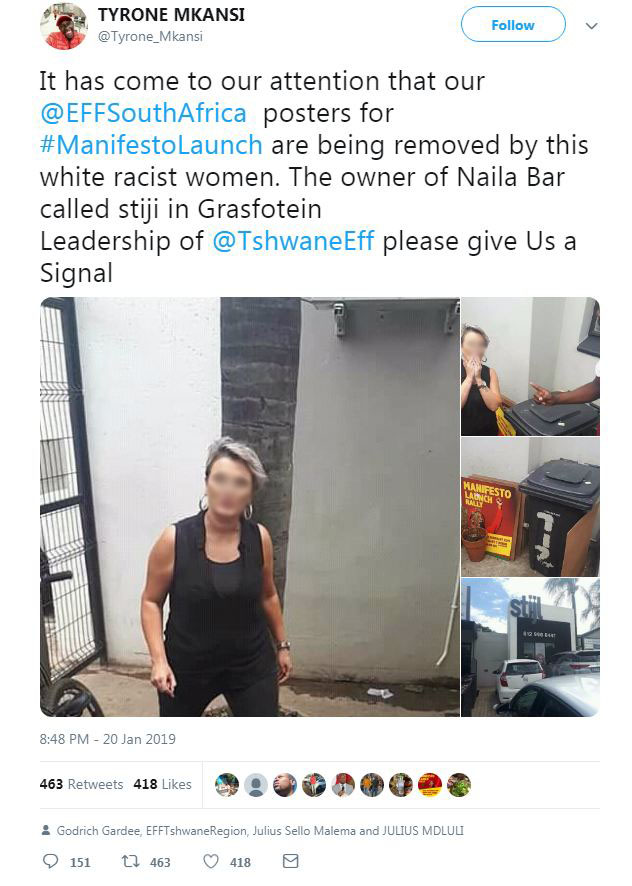 UPDATE: An earlier version of this article said the woman was the owner of the salon. She in fact rents a space inside the salon for a nail bar: 11:46, January 22.
UPDATE: This article has been updated to reflect that the salon has reportedly since been vandalised by EFF members: 11:50, January 22.
For more news your way, download The Citizen's app for iOS and Android.