Renault has reiterated comments made towards the end of last year that an RS badged SUV remains a priority within the coming years. In September, Renault Sport International General Manager, Jean Calcat, told Australia's goauto.com.au that an RS SUV remains a very real possibility, but also a complex addition given the performance division's focus on handling relative to what SUVs represent.
"When you look at the development of cars around the world, SUVs are a big thing, electric is a big thing, so it would probably make sense in the future for Renault Sport to look at SUVs and EVs," he said.
"So, say we're Porsche: we're German, we need big engines for the autobahns, and German drivers will go flat-out on the autobahns whenever they like to. So, for Porsche to do a Cayenne or Macan with a big engine, it makes a lot of sense … but I would say that for us French manufacturers, it is a little bit more difficult to find the right solution".
Calcat stated that it was more likely though that Renault could use the GT moniker for its first fast SUV as opposed to RS, saying that, "we are aware where the market is going (with SUVs), and Renault Sport is there to support Renault in terms of image and not in terms of volume. If we don't want to disappear at Renault Sport, at some stage in the future we will have to venture into SUV".
Confirming Calcat's comments, Renault Australia Product Planning Manager, Charly Clercin, revealed to carsguide.com.au that an RS SUV is "something we are very excited for", before adding that, "we're talking with head office on this, as the market moves more towards SUVs".
"They are looking into it, they recognise where the market is going," Clercin said at the unveiling of the all-new Captur earlier this week. He however warned that the RS SUV won't be simple slapdash affair as "Renault Sport customers have an expectation when it comes to handling. You can't just put R.S. badges on an SUV with a bigger engine".
..and Alaskan?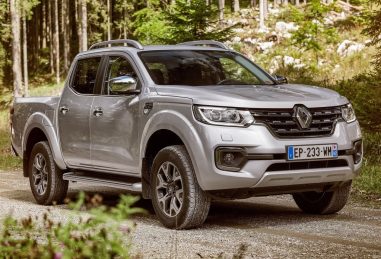 In a separate interview with the publication, Clercin also broke his silence on the Nissan Navara-based Alaskan pick-up, confirming that the third model of the Nissan-Renault-Mitsubishi Alliance's with Daimler has been dropped for Australia completely as it is set-up for Europe despite being made in right-hand-drive as the same factory in Spain as the Navara and the Mercedes-Benz X-Class.
"We looked into it and we couldn't get the car we wanted out of the factory. Local development costs to achieve the right spec for Australians would have added too much to the price. We know it's the biggest market segment in Australia, having a pick-up for the Renault brand makes sense [but] Renault customers have expectations when it comes to specification," Clercin said.
In an interview with caradvice.com.au last month though, Renault Australia Managing Director, Anouk Poelmann, said that while a Renault badged pick-up is still an absolute certainty Down Under, it will most likely only happen when the second generation Alaskan, which will reportedly join the Navara in shifting to the same platform as the next Mitsubishi Triton, debuts in around 2022.
"It would be a true Renault… it would look different. The whole organisation is under new wings. We look at product planning and product development through new and fresh eye," Poelmann said.
With the withdrawal of the Alaskan from Australia, it now seems all but confirmed that Renault's alternative to the Navara, Triton and X-Class, as well as the Toyota Hilux, Ford Ranger, Isuzu D-Max and Volkswagen Amarok won't be coming to South Africa either.
Note: Main image a render of what a Renault RS SUV could look like when based on the Duster. Image by Kleber Silva on Behance.
For more news your way, download The Citizen's app for iOS and Android.