Maserati has brought the curtain down on the now 12 year old GranTurismo and its drop-top GranCabrio equivalent by unveiling a one-off special edition of the former dubbed Zeda. In a statement, the Modena-based automaker claims that the Zeda "tells the story of the dawn of a new era through colours and materials" and that it also anticipates the GranTurismo's replacement due out next year.
Although nothing has unchanged underneath the bonnet where the normally aspirated 4.7-litre V8 continues to produce 338kW/520Nm, the Zeda sports a three colour exterior hue devised by Centro Stile Maserati, which fades from Maserati Blue to black and ultimately brushed silver in a style Maserati refers to as the "metallurgic effect".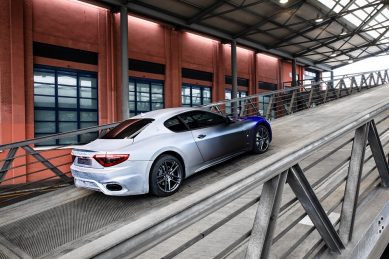 In the accompanying statement, the marque states that its factory is already undergoing retooling for production of the GranTurismo and GranCabrio's successor, which reports anticipate to be the long awaited Alfieri that bowed as a concept in Geneva four years ago.
"Work is already under way to update the production line in view of a total renovation that will see the facility devoted to the construction of the new super sports model, a high-performance car, characterised by state-of-the art technology and scheduled to launch in 2020," the statement said.
"In parallel, work has already started on a paint shop, a completely new addition to the facility, equipped with low environmental-impact, innovative technologies and boasting a special design enabling customers to personally view their cars as they are painted".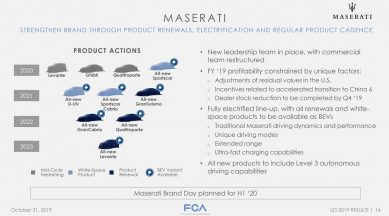 Subsequently, Maserati has released a teaser video on Facebook of the GranTurismo's replacement, confirming its debut in May next year via the Roman numerals for 2020, MMXX.
Based on a leaked product presentation slide that has since gone viral, the "Alfieri" will be followed in 2021 by a new D-segment SUV and a cabriolet version, as well as a new GranTurismo coupe that will be supplemented with a drop-top in 2022. The latter year will also see the arrival of a new Quattroporte with an all-new Levante destined to touch down in 2023. No word about the entry-level Ghibli was made.
For more news your way, download The Citizen's app for iOS and Android.