The Nissan Qashqai, which is the best-selling urban crossover in Europe, is now available in South Africa with significant premium enhancements.
As a pioneer of the crossover segment, Nissan has a deep understanding of customers' needs and has been leading the pack when it comes to creating vehicles that cater for different sectors of the market.
Nissan Intelligent Mobility
Nissan has been introducing its highly innovative technologies, known as Nissan Intelligent Mobility (NIM), to vehicles currently available in SA.
The Patrol and X-Trail, which were launched last year, have several NIM features, and the new Qashqai benefits from these technologies too.
NIM features include:
Intelligent Blind Spot Warning: Alerts the driver of a vehicle in the adjacent lane during lane changes.
Intelligent Emergency Braking: Helps avoid collisions by detecting the distance of the preceding vehicle and activating the brakes, if necessary.
Intelligent Forward Collision Warning: Sensors analyse the relative velocity of the preceding vehicle as well as the vehicle in front of the preceding one. If the system detects potential risks, it alerts the driver to slow down with visual and audible alerts and will also tighten the seat belt.
Around View Monitor: Using five cameras positioned around the vehicle, this technology provides a 360-degree view of your surroundings.
Intelligent Cross Traffic Alert: When backing out of a parking space, this feature can detect and warn the driver of vehicles that are approaching behind the Qashqai.
Moving Object Detection: Linked to the Around View Monitor, the system analyses video signals in an image-processing unit from the cameras attached to the front, rear and both side-view mirrors of the vehicle. It is then able to detect certain moving objects around the vehicle in real time.
Interior enhancements
Inside, the upgrades are more driver-oriented and start with a sporty new D-shaped steering wheel, which has a horizontal base to make entering and exiting the Qashqai easier.
The four-way controllers on the steering are new and offer customers more intuitive use to reduce "eyes off the road" time. The interior door handles and air vents are now finished in higher-quality materials with new stitching being added to the centre console armrest.
One-touch power window switches are now available across the range and all windows can now be opened and closed remotely via the key fob. The front seats have been completely redesigned with tapered shoulders to offer additional support while also improving visibility for rear passengers.
The NissanConnect touchscreen satellite navigation unit has a smart new user interface and the roof antenna is now in the shape of a shark fin for improved reception.
The integrated microphone for hands-free telephone use has been moved to the overhead lamp unit for improved performance.
Practicality comes in the form of a 430-litre boot which increases to 680 litres when the 60:40 split rear seats are folded flat. Adapting to customer suggestions for excellent audio quality, the Nissan Qashqai now has an all-new seven-speaker BOSE Premium sound system with tweeters, woofers and a digital amplifier for customers who choose the comprehensively specced Tekna model.
Exterior upgrades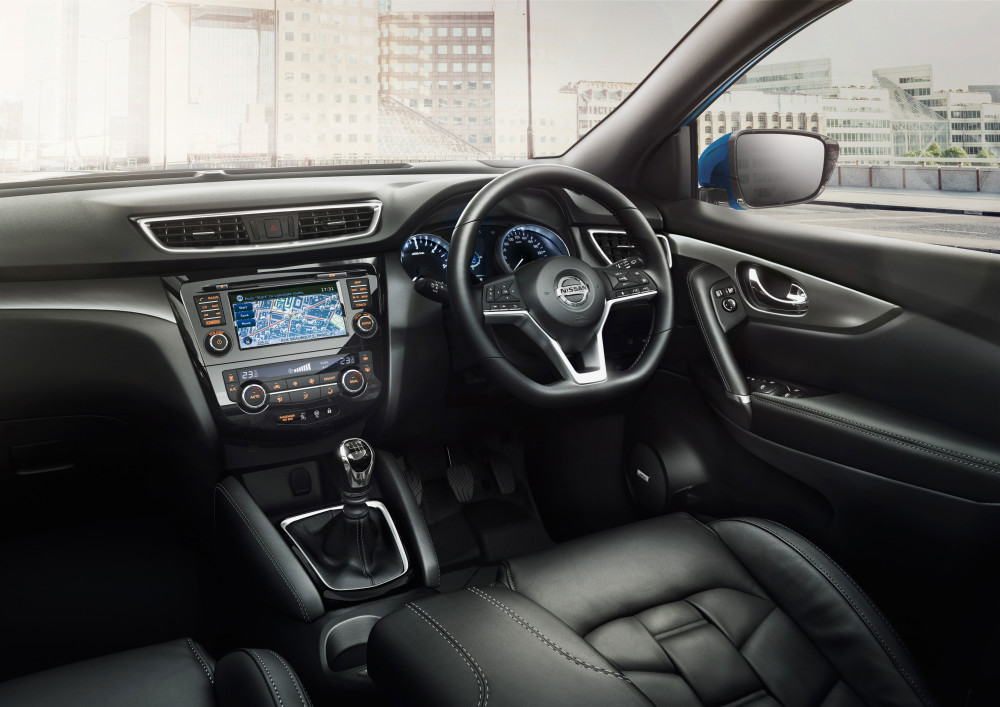 There's an integrated new front bumper and face with the latest incarnation of Nissan's iconic "V-motion" grille.
On the halogen lights, the "boomerang" Daytime Running Lamp signature is new and consists of nine LEDs. The clam-shell bonnet and rear bumper have also been redesigned.
There are new 17-inch and 19- inch alloy wheels, designed to reduce drag, and all the enhancements result in an increased overall length of 17mm to 4 394mm while the width and height remain unchanged.
Drive
The Qashqai's ride, handling and steering are said to have been improved in line with customer feedback to offer sublime ride comfort and a calmer body motion.
The dampers have been retuned, the anti-roll bar stiffness has been increased to maintain handling performance and, of course, the NIM Active Ride Control System reduces body motion while going over large bumps.
Significant improvements have been made throughout to improve noise, vibration and harshness levels and they include more sound insulation material, additional sealing and the rear door glass is thicker to improve rear passenger experience.
Pricing
1.2 T Visia R334 900
1.2 T Visia + Alloys R346 700
1.2 T Acenta R367 000
1.2 T Acenta CVT R381 000
1.2 T Acenta Plus CVT R394 000
1.5 dCI Acenta R394 000
1.5 dCI Acenta Plus R407 000
1.5 dCI Tekna R434 000
The Qashqai is backed up by Nissan Assured including 24-hour roadside assistance and has a class-leading six-year/150 000 km warranty, and a comprehensive three-year/90 000 km service plan.