Heading up the programme will be round three of the 2019 Mopar Endurance Series, with 22 teams taking on a four-hour race.
Topping the entry list will be championship leaders Nick Adcock and Michael Jensen (AidCall247 Ligier Honda), facing off against people like Riaan Botma and Sarel van der Merwe (Auto Investment Ligier Honda), Fritz Kleynhans and James Forbes (Point Blank Ligier Honda), Charl and Harry Arangies (Stradale Lamborghini Gallardo), plus Romano Sartori and Franco di Matteo (AMC Ligier Honda).
The midfield battle should rage among people like Tony Martin and Mike McLoughlin (Backdraft Cobra), Trevor Graham and Brian Martin (Backdraft Cobra), Richard Daley and Ian Stoffberg (ROCOL Nissan 350Z), Uli Sanne and John McLachlan (Alfa Romeo GT) and Ryan Quan-Chai and Mark du Toit (TAR BMW Z4).
The front runners among the saloon car entries must be Theo van Vuuren and Keegan Ward (Alfa Giulietta), Dayne Angel and Jarryd Evans (Autohaus Angel Honda Civic) and Wayne Lotter and Steve Truter (Globe Trotter BMW M3).
Earlier in the day, proceedings will start with two races for the MotorMart VW Challenge brigade. Top contenders must include Rory Atkinson (BHIT Polo), Bevin Masters (CPS Warehouse Polo), Lyle Ramsay (Monroe Polo), Waldie Meintjies (Allwagen Polo), Gavin Ross (Norbrake Polo), Chris Dale (Blue Belt Polo), Derek Smalberger (Sabertek Polo) and Stiaan Kriel (MotorMart Polo).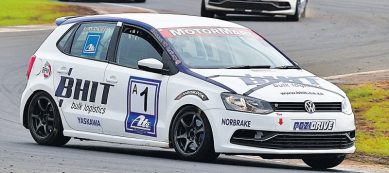 Jonathan du Toit (TAR Honda Civic) must start as favourite in the races for Car Care Clinic Superhatches, challenged by people like Louis Scholtz (Car Care Clinic Honda Civic), Brett Garland (autObarn Honda Civic), Karel Stoltz (Episerve Opel Kadett), Francois Henning (Select Registration Polo), Nic Martin RDG Peugeot 207), Mel Spurr (AKA Polo) and Trevor Stringer (Citrine Peugeot 206).
Topping the number of entries with 37 cars will be the races for Car Clinic 111 Sports and Saloon cars. Top contenders must include Wouter Roos (Nathans VW Golf), Harry Arangies (Nissan 350Z), Dirk Lawrence (JDM Tuning Honda Ballade), Phillip Emmenis Rotary BMW M3), George Economides (Wealth Avenue BMW 328i), Ishmael Peck (National Hotrods Honda Civic) and Danie Deysel (Tyre City Honda CRX).
Single-seater fans will not be left out in the cold. The Hankook Formula Vee races will see Jaco Schriks (Cubed Coatings Rhema) as the man to beat, challenged by Gert van den Berg (Hankook Rhema), Lushen Ramchander (TRA Forza), Peter Hills (Lube Fusion Rhema), Symm Grobler (Formula Vee) and Brandon Hills (Mangaza Rhema).
Historic single-seater contenders must include Chris Clarke AVO Suspension Titan), Mike Ward (Royale), Stuart Grant (Lotus 61), Pat Dunseith (Merlyn) and Shaun Hillary (Infinitude Design Dulon).
The Zwartkops gates will open at 6am, with the first race to commence at 7.30am. The Mopar four-hour endurance race will start at 1.30pm. Admission will cost R100 an adult and R80 per student, with children under 12 free. Food and drink will be on sale or you can take your own, with all spectators invited to visit the pits on foot at any time.
The circuit's Mini Moke trains will run between the pit gate and grandstands throughout the day. To find out more, call the Zwartkops circuit at 012 384 2299 or visit zwartkops.co.za.
For more news your way, download The Citizen's app for iOS and Android.