An immaculate 1973 Porsche 911 2.7 Carrera RS took the overall honours at the 2019 Porsche Club South Africa Central Concours at the Johannesburg Country Club last Saturday.
The absolutely original orange Carrera RS is owned by John Sayers, and is one of just two original 2.7 Carrera RS models still believed to be in South Africa. The Carrera RS competed in the Concours D'Etat category, which is the top judging sector at such events.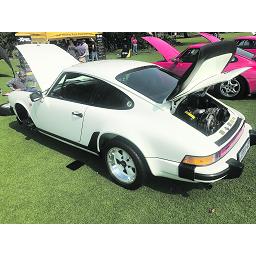 Second overall in Concours D'Etat was a white pre-1994 category Porsche Carrera from the mid-1980s, owned by Ross de Abreu. Third was an early-1970s brown Porsche 911 T owned by Porsche restoration specialist Tim Abbot.
Some 66 cars were entered, ranging from the humble 914 Volks-Porsche from the early 1970s, through early bathtub-shaped Porsche 356 models and early 912s and 911s to the more modern renditions of the 911.
The cars entered also included a front-engined 928 from the very early 1980s, a front-engined 944, plus a front-engined three-litre 968. This year, apart from the top D'Etat class, there was the well-supported D'Elegance category, where the emphasis was more on preparation and presentation than on 100% originality.
Two other categories which drew many entrants included the Race and Rally category for competition-orientated cars, and the new Outlaw category, where owners expressed themselves more freely in terms of their particular Porsche passion. Event sponsors included Sela Insurance Brokers, Mobil1 Centilube, Expel Custom Paint, Pirelli Tyres, Porsche Centre Johannesburg and Porsche Centre Pretoria.
Other category winners included Kobus Britz (911R), Brian Viljoen (GT2 replica), Douw Raimondo (944) and Quinton John Asken (GT3), all of these being in the Race and Rally sector. Russell Lambert's Porsche 911 was points winner in the Outlaw section.
For more news your way, download The Citizen's app for iOS and Android.