Uber expanded its imprint on public transport with the launch of Uber Bus in Egypt on Tuesday, reports Caxton Central. Egypt is the first country to roll out the service globally.
ALSO READ: Uber increases fares ahead of 'big days'
Passengers will be able to request an Uber Bus using the app and will be matched with other riders on a suitable route. Riders are allowed to pay with cash or card, and will only be able to request Uber Bus if their pickup and dropoff locations are within the currently serviced neighbourhoods in Cairo.
Uber wanted a piece of the competitive bus servicing industry in Cairo where bus-booking companies are looking to create cheaper and more reliable alternatives to public transport. Although the announcement was welcomed globally, it didn't take long before South Africans took to their social media platforms to voice their concerns over the possibility of the service reaching our shores.
Uber released a statement saying they had no intention of launching this service in South Africa, and would never contemplate launching it without full industry engagement and support. The bus service would rattle an already volatile public transport system in South Africa where the majority of the country uses mini-bus taxis as their main form of transportation.
Uber announces price hike from 7 December
Uber has also announced a price hike in South Africa starting on Friday. The taxi ride service released a statement saying they always try to keep prices as low as possible but have chosen to increase fares after taking into consideration the concerns of riders and driver-partners alike.
"We've chosen to increase fares by 5% in South Africa from 7 December 2018. This comes after implementing an in-depth earnings review to ensure that the Uber app continues to be a reliable economic opportunity for drivers, as well as an affordable option for riders," said Uber.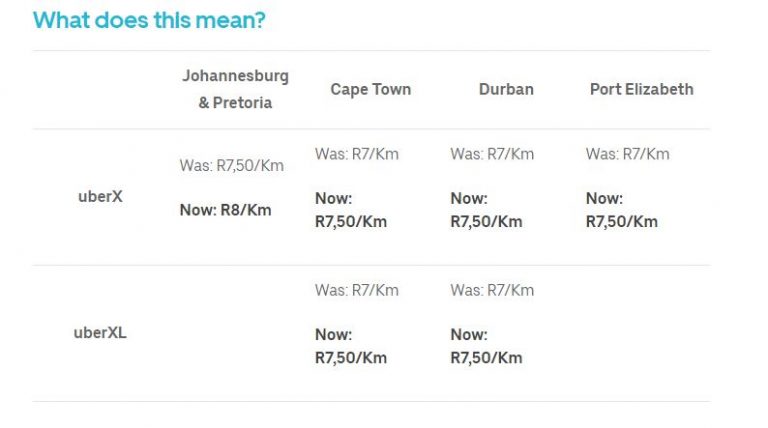 Here's what people had to say about Uber bus:
https://twitter.com/JaphtaSesotlo/status/1070691709317713922
For more news your way, download The Citizen's app for iOS and Android.