We also take it to Gerotek to see how it performs against the clock. Before you ask, what's the purpose of flat-out road testing a leisure double cab bakkie, remember where we live. South Africa is bakkie country and performance mad.
Let's be straight, how many stock standard double cabs are honestly out there? Not as many as you may think. Take the time to Google performance upgrades for your bakkie. I did and it makes for interesting reading. You will see every enthusiast forum light up over what is available to make your bakkie faster.
The most popular performance upgrades seem to consist of software tuning via plug-in and plug-out units, followed by freeflow exhaust upgrades. This points you in the direction I am talking about and if it doesn't, then try and leave a traffic light next to another double cab without it becoming a dice. It's also why the more powerful a bakkie is, the more it is loved.
If manufacturers could bring V8 turbodiesels to this segment, there would be buyers for them. Back to reality. Our Ranger Wildtrak is the new 2.0-litre biturbo diesel 10-speed automatic 4×4 in double cab guise that produces 157kW of power and 500Nm of torque.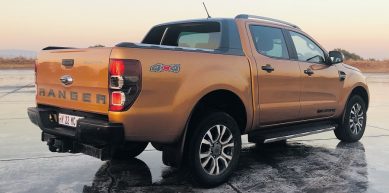 The Wildtrak is still available in the previous generation 147kW/470Nm six-speed automatic 3.2-litre turbodiesel. Our Wildtrak is the strongest, non-3.0-litre V6 turbodiesel available off the showroom floor.
It's worth getting into the tech and the numbers, so here goes. Designed from the ground up as a high-performance turbodiesel, it has gone through rigorous tests to offer the performance, durability, quality and refinement one would expect from a top-range offering that currently retails for a suggested R692 900.
This bi-turbo is exactly what the name says: two turbochargers hang off the 2.0-litre engine. One small high-pressure turbo is connected in series to a large low-pressure turbo. Their operation is controlled by a by-pass valve that allows the two turbos to work at the same time at lower engine speeds for extra responsiveness.
At higher revs the small turbo is bypassed and the larger turbo is called in to deliver top-end power. In a segment first, Ford's sophisticated all-new 10-speed automatic transmission – the same one used on the new Mustang – does duty on the Ranger.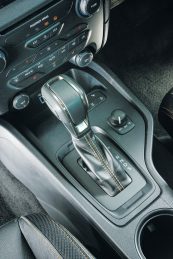 This transmission was developed as an all-new, clean-sheet design with efficiency and fuel economy improvement listed as the prime objectives. The 10-speed's architecture reduces the gaps in available power and acceleration between gears and this is said to provide smoother acceleration response and enable improved performance at lower engine speeds. So, much is expected of thisnew 2.0-litre bi-turbo Ranger. But my first impression was that, as good as it is on paper in terms of power and torque, it didn't feel that strong on the road.
I am a black-and-white numbers guy and this is what this road test is about, the numbers. I haven't driven a 3.2-litre Ranger in a number of years, but I remember it being pretty decent off the line and on the move. And my old road test data supports that. And when testing the Ranger Wildtrak at Gerotek, my road test data as attached to this review backed up my feelings again.
The new 2.0-litre bi-turbo Ford Ranger Wildtrak is not as quick as the old 3.2-litre. It is a close-run affair, though. The new Ranger hits 100km/h in 12.45 seconds, the old one in 12.34 sec. But at this gap opens at 140km/h, where the new Ranger gets there in 26.81 sec and the old one in 24.83 sec.
Where the new Ranger fights back is in roll-on acceleration and here the 10-speed box shows its superiority over the six-speed. It edges the older model in the 60- 100km/h and 80-120km/h test by a few tenths of a second. Both run to a true top speed of just over 180km/h.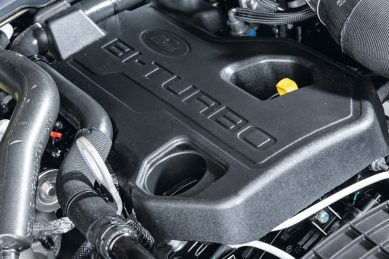 Before you get into a huff about the numbers, just remember that the new Ranger is still quicker than every other double cab turbodiesel bakkie without a V6 under the bonnet. The existing select shift transmission (SST) programme is carried over and this enables you to switch to sport mode, while also offering a full manual mode via the +/- buttons on the gear lever. In my time with our Ranger Wildtrak, I have had no use for the manual mode and can only guess this will come in handy for hardcore towing or off-road work.
Outside of my performance road testing at Gerotek, the only time I have used the sport mode is when I have accidentally engaged it when trying to select drive. A very easy mistake to make, and I do it often, as sport mode can easily be found when you pull the gear lever down due to it siting right below drive.
There is no double kind of prevention mechanism or moving of the gear lever left or right before sport mode is activated from drive to prevent this. The box is also so smooth, you won't notice that you have selected sport mode until you have passed Bloemfontein. It's not the end of the world – you just have to watch what you are doing.
A quick comment on the average fuel consumption so far to wrap up this instalment of our time with Ford's Ranger Wildtrak. We are currently getting a figure of 10.8-litres per 100km, which is some way off the claim of 7.8l/100km, but as you would have read in our previous update, this can easily be improved on when out on the open road.
Our next update will be on Wednesday September 25 and we will talk a little about the technology that helps when you go off the beaten track.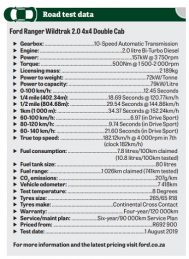 For more news your way, download The Citizen's app for iOS and Android.