Look, doing this saved me from having a mental meltdown at how lawless the drivers are in and around Pretoria West. Driving straight in a turning lane, no big deal. Driving in the yellow lane, also, no big deal. Even driving in the veld next to the road. Hey, no biggie, this is Africa, we are tough and can go anywhere. But seriously, when car after car simply uses the other side of the road and forces the oncoming traffic to play a dangerous game of chicken, I lose my sense of humour and stop thinking that our traffic is cute.
Our cops know this happens. Each and every day. And in the same places too. But they don't seem to want to do anything about it. And it was when the dark clouds came down that I started to think of Married at First Sight.
The gist of the show, as the name suggests, is that complete strangers are introduced to each other for the first time at the moment they are about to be married. The show producers say they have specialists, including a spiritualist, a relationship coach and a sociologist to determine a viable match. The series then documents the relationships, including honeymoons and other relatable events of married life. After several weeks, each couple must decide whether to remain together or go their individual ways.
I took what I believe was plenty of time before I decided that my poor wife deserved no further happiness in life and asked her to marry me. I have been married forever and I am still not 100% sure if she means me no harm when I ask her if I can check on my race car at the workshop and have a few beers with the boys and she replies with a sweet "no problem".
They should come put some cameras up at my place. They might get way more than they bargained for as it is said that one in three men are murdered by their wives. Now, new car launches are about the same. You meet the car on the day you are going to drive it for the first time.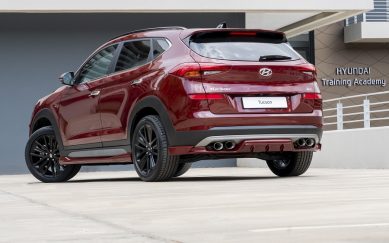 You have a very brief window of time to try and figure out if this car is for you. But you have agreed to be at the launch. You are committed. Love it or hate it, you are then required to record your findings for everybody to see and read. And you just might get stuck with a driving partner that also tries their best to kill you.
I came away from the launch of the new Hyundai Tucson Sport not completely in love with the turbodiesel model they were now offering for the first time. The launch drive was short and tackling a dynamic handling track in a diesel was fun, but not the best way to show off this derivative's plus points.
So, I left "the show" looking for an annulment of the turbo diesel marriage while telling you that the petrol turbo derivative was a better long-term choice. But now after spending a bit more time getting to know and understand the turbo diesel, I think I might have made a mistake.
I spent a full week, yes, I know this is not exactly a long-term marriage, but in terms of the limited time we get to spend with test cars, this would be considered a serious relationship. And as life would have it, I had a jam-packed week, with commuting and open road travelling all included in the mix.
Commuting was a pleasure thanks to the standard fitment luxuries on-board. You get electrically adjustable seats, dual climate control, rear parking assist and rear-view cameras, and an infotainment system that offers Apple CarPlay or Android Auto. On the open road, you have all the expected safety features from airbags everywhere to Blind Spot Detection and Cross Traffic Alert safety systems and convenient cruise control.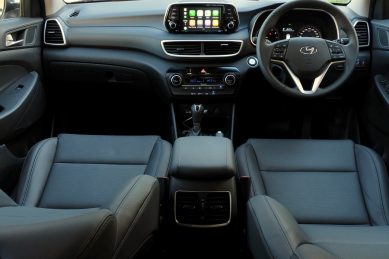 What makes the open road experience even better is the urge offered by the 2.0-litre turbodiesel that has been enhanced by a Chipbox plug-and-play type chip which increases the power and torque of the Sport over the standard model. You get 150kW of power, up from 131kW, and 460Nm of torque, up from 400Nm. And trust me, not only can you feel this difference, it is real, and my Racelogic VBOX test equipment agrees 100% with me here too.
From the word go, this Tucson Sport 2.0D drives away from the non-Sport model. It's 1.5-seconds quicker to 100 km/h, a full six-seconds quicker to 160km/h and perhaps even more importantly, it will take you four seconds quicker to go from 60km/h to 140km/h.
These are numbers that count in the real world of overtaking. You will also be happy to know that none of this comes at the expense of fuel consumption. The claim is 7.9-litres per 100km and I got an excellent 8.3-litres per 100km. Just like in a marriage, there are always a few quirks you have to live with when you are dealing with what is essentially a modified car.
One was the sensitivity of the throttle response that has been stepped up via a Pedalbox module and this took a little getting used to. Not gentle on the accelerator and the front wheels chirp away like mommy forgot to take her meds.
A way bigger pain was that this sensitivity did not work well with the speed cruise. Select a highway speed and the car battled to regulate itself smoothly. The speed would drop a km or two and instead of unnoticeably edging back up to the set mark, it would gear down the eight-speed automatic gearbox and try drive through the set limit, then go back down and then back up again.
The only way I could solve this problem was to switch to manual mode and force the car to stay in the chosen gear. Done this way, the car settled back into being a very smooth and effortless tar consuming choice in this market segment.
The Tucson Sport 2.0D costs R664 900 which includes a five-year/ 90 000km service plan and a seven-year/200 000 km warranty as well as roadside assistance for seven years or 150 000km.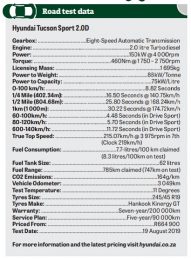 For more news your way, download The Citizen's app for iOS and Android.