The F-Pace SVR was unveiled recently at the Jaguar Simola Hillclimb in Knysna on the weekend of May 6 and 7, where two of them were raced up the hill by one scribe in Ashley Oldfield and one rock star TV celeb in Marius Roberts, both of who know how to pedal a car in anger. So they basically did all my track-type testing for me when they tackled the twisty 1.9km long hill over and over during that weekend.
Now, if I tell you that they ran a time of between 46 and 47 seconds, that might not mean anything to you. But if I tell you that these times put this family SUV ahead of seriously fast supercars like a Mercedes-AMG GT-R, a McLaren or two, plus one modified Ferrari 458 GTB, then this just might give you an idea of just how fast this car is. Exactly how is this achieved? Well, the F-Pace SVR features a comprehensive range of advanced technologies, each calibrated purely for performance.
You get a unique Dynamic Driving Mode for the SVR, which initiates faster, more responsive gearshifts, sharper throttle responses and increased steering response, front and rear springs that are 30% and 10% stiffer respectively, along with a sports-tuned Electronic Differential and Adaptive Dynamics with Torque Vectoring that allows you to throw this SUV into a corner and you know it will stick.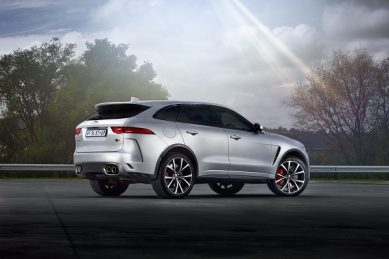 Fair enough though, a lot of this skill will be thanks to the specially adapted Dynamic Stability Control system that is able to reduce engine torque or apply braking to individual wheels to help maintain the chosen line when cornering. And should it get a little out of hand, you can count on the big optional 22-inch Pirelli P Zero wheels and large two-piece performance brakes to stop you from flying off any mountain.
The SVR also looks somewhat different to the more run-of-the mill F-Pace and most of the styling cues are also there for improved performance. I did feel though that the SVR could have done with a bit more in your face type styling, but there are many out there that will enjoy the slightly more subtle appearance just fine.
Aerodynamic enhancements include larger air intakes at the front and side fender vents that lower pressure in the wheel arches, reduce lift and provide additional cooling while also optimising high-speed stability. At the rear, a unique spoiler is joined by a new bumper housing the quad tailpipes of the Active Exhaust system.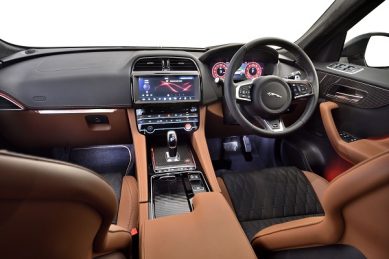 The bumper incorporates side strakes that aid aerodynamic performance by smoothing airflow away from the rear of the vehicle. An exclusive SVR bonnet also features vents to help extract air from the engine bay.
Making sure you and your passengers don't fly around all over the show when you are channeling your inner racing driver, the F-Pace SVR features performance front seats that provide enhanced lateral support, as do the rear seats echo the heavily sculpted designs up front. But what happens when you venture out to the East Rand and every traffic light is seen as a countdown Christmas tree from the local drag strip?
That's when you are also going to need every one of the 405kW of power and 680Nm on tap from the tried and trusted Jaguar 5.0-litre V8 supercharged powerplant. As tested by me at Gerotek, this two-tonne SUV, that you could use to take your mother-in-law for pancakes at Harties, hit 100km/h in a 4.68 seconds, blasted through the quarter mile in 12.90 seconds, hit the 1km mark at 231km/h and only stopped at 294km/h on the electronic speed limiter with an indicated 300km/h being shown on the head-up display.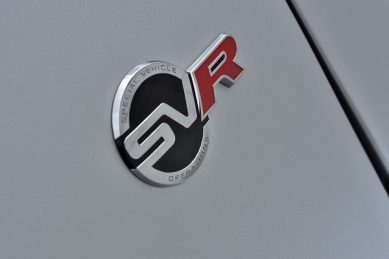 If Granny's hair wasn't blue to start with, it most certainly will be if she realises how fast you are going. The only negative at this point is that as fast as the smooth shifting eight-speed automatic gearbox is, you do kinda feel that a brutal double clutch gearbox would make this F-Pace SVR that little bit quicker.
Before you think I have gone as senile as Granny, allow me to add, this F-Pace SVR plays up against the likes of Porsche's Macan Turbo, which it was benchmarked against by the Jaguar engineers, Mercedes-AMG's GLC 63s and BMW's just about to be launched X3 M Competition.
So, much as you might say you don't need a 300km/h SUV to take the kids to school or look at giraffes on the weekend, there are clearly those that do, and at a well-priced, in this particular segment, R1 511 500, the Jaguar F-Pace SVR should be on your short list.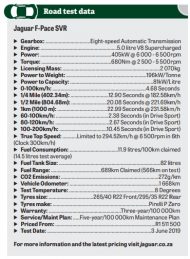 For more news your way, download The Citizen's app for iOS and Android.