Land Rover has updated its Range Rover Sport models for 2019 and this week we have the perfect midrange offering in the HSE TDV6 on test for you.
Starting on the outside, the ever-popular SUV now features a slimline grille, new front bumper that also enhances cooling, along with LED headlights.
And at the rear, you get a sporty roof spoiler, and new wheels in 21 or 22-inch.
Our test car had 20-inch wheels fitted, they looked cool, but you did have to be careful when going off-road for obvious reasons.
Staying with the driving theme, being a Range Rover, you just know it can almost go anywhere and will certainly go anywhere any reasonable family would want to go.
Comprising a lightweight front and rear design, the suspension layout perfectly complements the advanced aluminium construction.
And if you are not overly technically minded, or won't be tackling seemingly impossible off-road obstacles you are pretty much like me because I only took the Range Rover Sport on a short, muddy, off-road drive at Gerotek.
That felt like it barely tested the capability of the SUV and you will be comforted by the fact that the vehicle does it all for you via a series of Terrain Response 2 programmes.
This includes a Comfort mode and Dynamic mode, that exist alongside Grass Gravel Snow, Mud/Ruts, Sand, Rock Crawl and Eco settings.
The Sport also benefits from Jaguar Land Rover's unique Low Traction Launch System, which helps to exploit all available traction when pulling away on slippery surfaces.
Hill Descent Control is also fitted as standard, while excellent ground clearance and a smooth underfloor help the vehicle negotiate rough terrain.
The SUV's four-wheel-drive capability is managed by a transfer case design, which has a smart actuator rather than a separate motor and ECU.
And using wheel slip information from a range of sensors, the clutch distributes torque evenly between all four wheels, while a "shift on the move" system allows selectable high and low gears up to 60km/h.
But we are far from done, as all Range Rover Sport models come as standard with four-corner air suspension. This means that you can lower and increase the height of the vehicle as and when it suits you.
The Range Rover Sport is also available with Advanced Tow Assist which takes the stress out of complicated reversing manoeuvres by automatically steering the vehicle.
All you have to do is operate the pedals and select the path of the trailer using the rotary Terrain Response controller on the centre console.
The path of the trailer is projected on the central touchscreen by a feed from the reversing camera and rotating the controller intuitively adjusts the guidelines ahead of the trailer.
Hitch Assist is also available to guide the vehicle and tow ball together via the same screen when attaching a trailer.
Like I said, being a Range Rover means that this SUV can go anywhere and do anything with absolute ease.
And on the open road, where it will be driven most in my opinion, the eight-speed automatic, 225kW/700Nm, 3.0-litre V6 turbodiesel makes easy work of any trip you wish to take.
While outright performance is not this particular model's claim to fame, this is a job for the SVR, the numbers returned while at Gerotek were right in the ballpark, and more than acceptable.
A 0-100km/h time of under 9.0 seconds, a 1km speed of almost 180km/h and an electronically limited top speed of 216km/h should be more than enough for the average family man wanting luxury and space with a decent average fuel consumption of under 12-litres per 100km from a rock solid two tonne vehicle.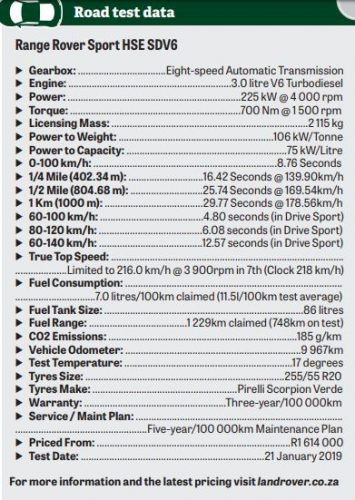 Moving inside, and not least of all, you now get two high-definition 10-inch touchscreens that form the centrepiece of the minimalist cabin.
The system looks simultaneously futuristic and elegant thanks to the interlinked 10- inch touchscreens that provide superior clarity and ease of operation with familiar tap, swipe and pinch-to-zoom control gestures on the upper screen.
And the customisable home screen also allows you to create shortcuts to preferred features.
Key to its design are two rotary Dynamic Dials within the lower screen, which can be used to control the interior temperature, fan speed, seat climate and massage functions.
This can also be used to manage media and phone functionality via specialist widgets when the upper screen is in use.
You also get a 12-inch high-resolution Interactive Driver Display that includes dual dial, single dial and extended mode views. Other frequently used features – including phone, navigation and media settings – can also be managed using this cluster.
In addition, the Sport's next-generation Head-Up Display system puts vital information just where you want it, using a 10- inch full-colour projection with superior clarity and definition.
It presents essential information on the windscreen, keeping vehicle speed and navigation directions in view at all times.
Other updates include adaptive cruise control settings and Advanced Driver Assistance alerts.
There are USB, HDMI and 12V connections in the front console cubby box, while there is also a 12V socket in the glove box.
For rear passengers, there is 12V charging, domestic plug socket, USB and HDMI, while the load space also provides 12V and a second domestic plug socket to keep laptops and other devices topped up.
There is also provision for up to eight 4G Wi-Fi connections, which ensures continuous connectivity on the move.
You also get a full suite of driver assistance features on the Range Rover Sport which includes the likes of Lane Departure Warning and Intelligent Emergency Braking, Cruise Control and Speed Limiter, which are all fitted as standard.
A number of driver aid packs are available to ensure that this SUV does almost all the driving and keeping of your family safe by itself.
The Range Rover Sport offers a state-of-the-art package that is great to drive, but thanks to the poor state of our currency versus the pound, and JLRSA importing their cars without any export credits, this mid-range model Range Rover doesn't come cheap at R1 614 000, which means you can get a top-of-the-range BMW X5 M50d for the same money.
And this means that as good as it is, you are going to have to really want one to go out and pay this premium.
Likes 
Street cred.
Styling, go anywhere capability.
Punchy turbodiesel engine.
Dislikes
Verdict 
Great to drive, premium SUV, that is sadly not more of an automatic choice thanks to a hefty selling price.
For more news your way, download The Citizen's app for iOS and Android.