Back in my tyke days I used to look at Volvo cars as "that funny Northern European, semi-premium car-maker that nobody wants".
As I grew older with a better understanding of cars, my brother bought the now discontinued Volvo S40 and it was a comfortable car that handled even the harshest treatment.
Since then, I have looked at Volvos in a different way, though getting used to their Swedish design was difficult.
I recently had a jaunt in the new Volvo XC60 D5 R-Design, which rivals the Audi Q5, BMW X3, Mercedes GLC, Jaguar F-Pace, Land Rover Discovery Sport and Porsche Macan.
In its second generation now, the all-new XC60 happens to be the first 60 series since Volvo's purchase by Geely.
It shares its Scalable Product Architecture platform with the good-looking S90, V90, and XC90 models.
On the outside, it adopts styling cues from the XC90, including Thor's Hammer headlights. It features a stubbed nose, tasteful chrome accents, and vertical taillights.
Our test unit came fitted with 22 inch aluminum wheels.
It is longer, lighter, wider and sits lower than the model it replaces. The increase in dimensions resulted in improved cabin and luggage spaces.
It is handsome and looks undeniably premium.
Measurements are closely matched with key rivals in the segment, and the Volvo's compact shape makes it easier to park and manoeuvre than the XC90.
It offers the highest ground clearance of the SUVs in this matchup, even if most buyers won't venture off road.
I have a three-month-old daughter and it was time for her to visit her grandmas in Mpumalanga, Bushbuckridge.
That meant packing luggage from prams to large bags, but thanks to the big boot of the XC60, it handled that department hassle-free.
Unlike Volvo's bigger XC90, the XC60 is only available with five seats so you have the option to go for the XC90 if you have a bigger family and still want to remain in the Volvo family.
Volvo's are known for their good standing when it comes to safety and the XC60 is no exception.
According to Volvo, the XC60 is one of the safest cars ever made, with nine airbags and scoring the highest of all new vehicles when tested by NCAP in 2017.
Our test unit boasted Volvo's City Safety Autonomous Emergency Braking system, oncoming Lane Mitigation with Steer Assist (which helps avoid head-on collisions) and Blind Spot Information System with Steer Assist functionality plus Pilot Assist, which takes care of steering, acceleration and braking on well-marked roads up to 130 km/h.
In terms of drivetrain, the XC60 came fitted with a turbodiesel two-litre D5 engine mated to an eight-speed automatic gearbox driving all four wheels which was rewarding to drive, especially in highway cruising situations.
Power is rated at 173kW and 480Nm.
Acceleration is not the best and the engine it struggled with overtaking grunt. However, it behaved well when driven on the highway.
Handling is reasonable considering the XC60's identity as a luxury crossover, thanks to the AWD system.
During the week of evaluation, I managed to average a not so bad 8.2l/100km with the fuel range coming close to the 1 000km mark.
Considering that my drive around Bushbuckridge included gravel routes and poor-maintained tar routes, the XC60 behaved itself well with no faults.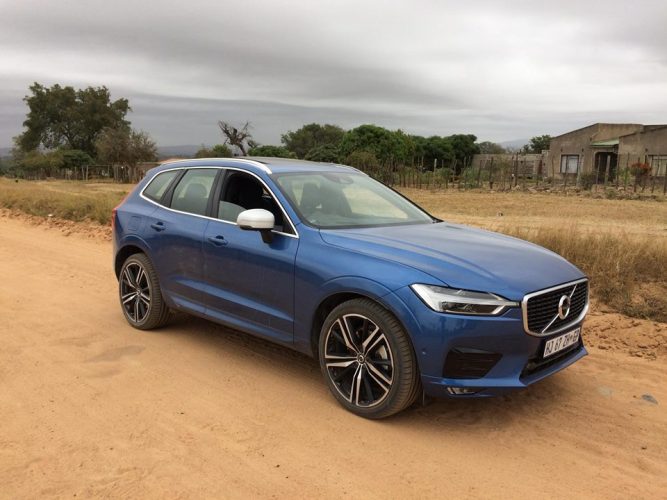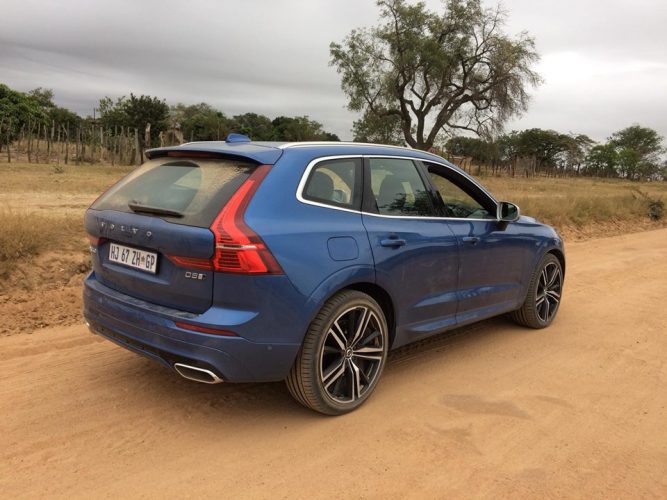 Pricing for the new Volvo XC60 D5 R-Design is R779 000, backed by a five-year/100 000km warranty and maintenance plan plus a five-year unlimited mileage roadside assistance.