I have always said that we are all slightly batty in South Africa when it comes to high-performance vehicles.
The average guy in the street might not know a lot about politics or other complicated stuff, but come past in a fast car and he takes notice and often shows appreciation.
Seriously though, for a country that suffers from an unhealthy amount of poverty and a general lack of disposable income, those that do have it, have it in spades and spend it on fast cars.
We are one of the bigger markets in the world for MercedesAMG and BMW M models, we also sell a decent number of Porsches, Ferraris and various other supercars every month.
And even on the other end of the scale, last I heard we were the largest market for VW R Line products and the Golf GTI outsells all the other Golf models combined.
I have always maintained the more compact the car and more powerful the engine, the more the public will love it and Mercedes-AMG have just unveiled their 375kW GLC 63 S and GLC 63 S coupe SUV range locally.
This is the SUV that would correspond with their C-Class offerings, so it's mid-size, with a monster of an engine.
Think BMW 3 series and then go to X3 and think M3/M4 engine.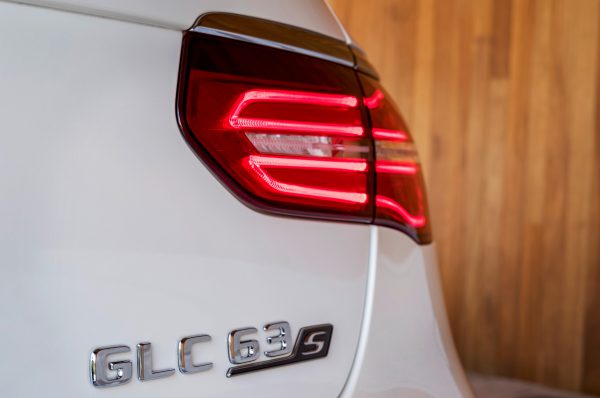 Normal people might look at Mercedes-AMG and go, why?
And the answer is simple: because they can. Porsche has the Macan Turbo, but this is more a GLC 43 competitor.
Ironically, unless I have my information screwed up, the first local manufacturer who is going to fire shots back in this brutal power war is going to be Alfa Romeo with their really good 375kW Stelvio Quadrifoglio Q4.
Not BMW or Audi and I can't wait because these cars, or SUVs as they should be called, are seriously fun to drive.
Says Tobias Moers, CEO of Mercedes-AMG GmbH: "For us, the new GLC 63 is a quite special vehicle. It is no easy job designing a SUV to be highly sporty and dynamic while at the same time offering inherent extreme driving stability.
"This required us to put our heart and soul, along with our many years of SUV expertise into the development of this vehicle. The result is a SUV that can be driven with high precision and agility and which, if required, is equally at home on a high-speed lap of the race track.
"With our V8 biturbo engine, we hold a decisive USP in the performance market. "What is more, with SUV and coupe, we offer the widest choice in the segment. "Also, the technical closeness to our sports cars is visually underlined by the panamericana grille, which was previously reserved for our AMG GT models."
None of this is cheap talk from the CEO. We are only getting the AMG S models in South Africa and that means that the, Mercedes-AMG GT based, 4l V8 biturbo engine fitted in these derivatives put out 375kW of power and 700Nm of torque.
The agility, dynamic lateral acceleration and maximum grip are thanks to the new AMG suspension with fully supporting multi-chamber air suspension.
The front axle features a fourlink design with special steering knuckles, optimised elastokinematics and radial brake connections.
The stiffness of the air springs can be adjusted over a wide range by activating or deactivating individual air chambers, making for perceptibly enhanced comfort and handling.
There are three degrees of spring tuning, depending on the selected drive programme and current driving status.
The spring rate is hardened automatically in the event of sudden load changes, fast cornering, heavy acceleration or heavy braking, this effectively reduces roll and pitch while stabilising the vehicle.
The adaptive damping can be set in three stages – comfort sport and sportplus – to choose between relaxed comfort on long journeys and maximum sportiness when required.
And there is even a race mode for when you want the ultimate in performance.
The bottom line is that you are getting a mid-size performance SUV that features air spring suspension with adaptive adjustable damping, AMG performance allwheel drive with fully variable torque distribution, a rear-axle limited-slip differential and a high-performance braking system.
The interior is also a very good place to spend a lot of time, and there will be no mistaking this SUV for anything but a high-performance AMG model.
Does it have a massive amount of space available and can it go climbing mountains in the Drakensburg?
No, it is firm, even in comfort mode and will prefer showing off in the city.
But it does have adequate space for a mid-size SUV and will do a dirt road or two if forced to.
Besides, you would own this AMG SUV because you want to drill almost anything and everything you come across on the road.
If you wanted to go farming, you would have bought a Toyota Hilux.
As to be expected there is the usual full house of MercedesAMG safety and technology on board in standard offering and optional spec.
So, no matter what you desire, you should be able to find it for the GLC 63 S and GLC 63 S coupe.
I think the best way to sum up these slightly mad offerings was when one of the AMG driving academy guys based at Zwartkops Raceway said to me: "This is not an SUV, it's an FUV, and the F is not for fast, and the U is not for utility."
I like it, I like it a lot.
Pricing
Mercedes-AMG GLC 63 S R1 563 596
Mercedes-AMG GLC 63 S Coupe R1 679 605