The Volkswagen Polo Vivo has been South Africa's best-selling passenger car since its introduction in 2010 and 193 343 have found homes here during the past seven years.
The numbers speak for themselves, regardless of the tough competition that it faces.
The recent launch of the new Volkswagen Polo Vivo has sparked unhapiness as consumers feel the Volkswagen brand has cheated them by just sticking badges and stickers on the fifth generation Polo.
I felt the same way but that all vanished immediately when I stepped into the new Polo Vivo GT.
So by the time you finish reading this, you would at least know what changes have been implemented in the newcomer. Based on the fifth-generation Polo TSI as most people call it, the new Polo Vivo GT has been tweaked a bit both inside and outside.
The GT sits on top of the Polo Vivo range – just like the Polo GTI in the Polo range. You get 17-inch alloys, lowered suspension setup, leather seats, 'Space' cloth seat trim, comfortable front sports seats, rear tailgate spoiler plus black side moulding.
Aficionados of the Vivo will not have any troubles spotting the differences between the GT and the car it is based on.
Other features include GT lettering on the tailgate, front sides and grille, redesigned bumpers and rear lights, a sporty single-pipe exhaust system with chrome trim plus fog lights that come standard. You also get body colour exterior mirrors and door handles.
The GT boasts six speakers and Volkswagen's new MIB colour touchscreen radio system that supports USB and App-Connect. Using the App was a bit of a mission to use, I kept on getting an error message – something I have never experienced in other cars with the same functionality.
Space is nothing to worry about.
Unlike its predecessor GT, this one has five doors.
The seating position is also not something to stress about. You get ample head and legroom. You can fit five people inside and still have copious space to move your shoulders.
Boot space is class-competitive with a volume of 280 liters, 952 litres when you fold down the rear seats. The new Vivo GT comes with a potent three-cylinder 1.0 TSI engine with 81 kW of power and 200Nm of torgue – 4kW and 45Nm more than the outgoing GT.
The power is accessed via a smooth six-speed manual transmission. Sadly there is no automatic transmission. Volkswagen says the GT can run from 0-100 km/h in 9.7 seconds and we did not test that as we normally do but it feels quicker than that.
I will be surprised if it does not fall in the eight-second bracket.
On the road, it is comfortable but there is an amount of wind noise when cruising at high speeds. There is an impressive amount of grunt in all the six gears but there is some turbo lag below 2 000 rpm.
Steering response is also not as you would expect it to be, which required me to constantly bring the car back to line.
With the driving done mostly in and around town, I managed to average an impressive 5.5 litres/100 km instead of the 4.6l/ 100 km claimed by Volkswagen.
For once, I thought there was something faulty with the fuel gauge after driving 200km and the gauge still had not moved an inch.
I managed to cover close to 800km on a single tank – something I have never experienced in my years as a motoring journalist.
Pricing for the new Polo Vivo GT is R245 000.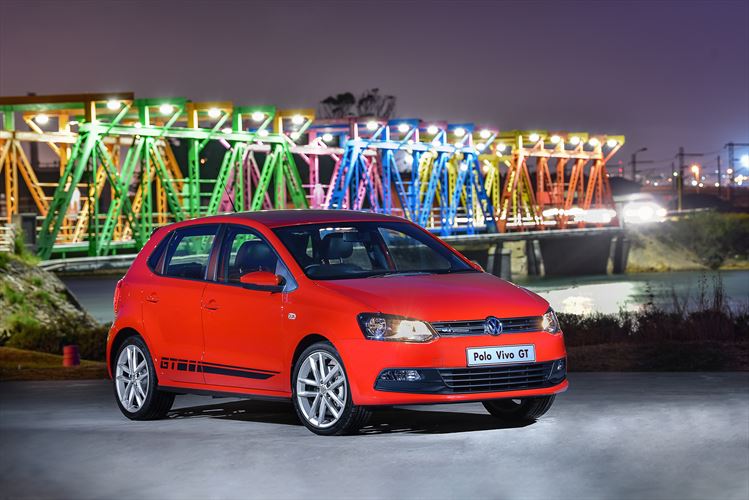 The Volkswagen Polo Vivo Hatch comes standard with a three-year/120 000 km warranty and a six-year Anti Corrosion warranty.
A Volkswagen Automotion Maintenance Plan as well as a Volkswagen Automotion Service Plan are available as options. The service interval is 15 000 km.
New Volkswagen Polo Vivo launches in SA, here's how much it costs