When Hyundai first brought the Veloster to South Africa I hoped this would be a revival of the Korean manufacturers sporting aspirations which were last seen in the Tiburon offerings.
Veloster was certainly striking with its 2+1 door configuration and edgy styling but unfortunately the performance did not match the image. So the arrival of the Veloster Turbo was welcome news.
Styling remains ostensibly the same as its normally aspirated sibling, but unique front and rear bumpers, new fog lights, rear spoiler, projection headlights with LED accents and LED tail lights plus a set of 18 inch alloy wheels distinguish the latest offering.
Entry to the cabin is triggered by a proximity keyless system and the leather sport seats envelop you.
The new gauge cluster offers two TFT displays between the speedometer and rev counter. Pushing the start button, the new T-GDI engine springs into life.
This is the basis of the unit that powers Hyundai's World Rally Championship i20, though not developing the 200kW of that engine. But the power plant in the Veloster Turbo still produces a healthy 150kW of power with torque weighing in at 265Nm.
The 1.6 litre high compression engine with twin-scroll turbo charging and high pressure injection has increased power dramatically from the 103kW and 167Nm delivered by the normally aspirated version.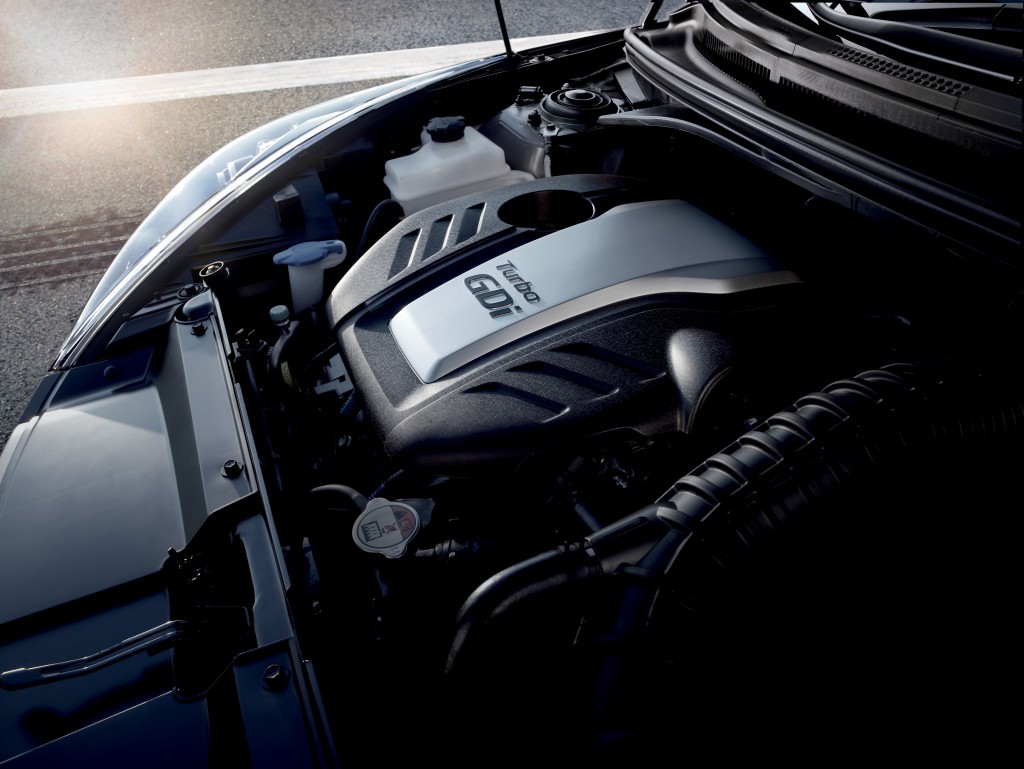 So I was full of expectations as I headed for the mountain passes. It certainly was a pleasure to drive, the chassis dynamics with its up-rated sports suspension and the 215/40VR18 rubber keeping the Veloster firmly on track.
Enlarged front discs, now up to 300mm diameter and a quicker ratio steering rack are a welcome addition. So far so good!
It's nice to know that on the safety side the Veloster Turbo has earned a 5 Star EuroNCAP and provides VSM, ESC, MDPS, ABS, BA and EBD. My test car was fitted with the optional Dual Clutch Transmission, which will work either automatically or in response to input through either gear lever shifts or the steering wheel-mounted paddles.
The standard offering is a six speed manual and that would be my choice. I really did not fall in love with that seven speed box.
No matter how I attempted to shift, it was either slow responding or changing gears. The manual also comes in at R20 000 less.
The engine was also surprising. Perhaps I was expecting too much. Don't get me wrong, it's not slow, 0-100km/h figures are claimed at 7.3 seconds and top speed at 225km/h, but somehow it just does not deliver a drive that its styling suggests.
I agree that most modern turbocharged cars have a more linear power delivery but generally you are aware of the forced induction's presence at some point – not with this one.
Push hard towards the red line and there also appears to be a roll-off in the power delivery and at a surprisingly low 5 500rpm.
The Hyundai Veloster Turbo looks every inch the part, unfortunately even with that big performance boost it is still lacking when pitched against many of its rivals.
Pricing is another issue, coming in at R410 900, it faces some very stiff competition from competitors offering bette