For as long as I can remember, when a Honda vehicle arrived in our driveway in December, my kids would get all excited because this signalled the real start of the annual end-of year-holidays, and our trek down to the coast.
But over the past few years there have been some PR and management changes at Honda SA and the Hondas stopped arriving and the tradition ended.
For the past two years now, it has been Toyota SA that has taken up the rebuilding of a Jones family tradition.
And after the Prado in 2017, it was the turn of the Land Cruiser 200 to haul us all off to the coast for a much-needed break at the end of a tough 2018.
The model range was recently given an exterior nip and tuck to update the looks a little and as an added bonus, we also hadn't driven one yet, so it all worked out perfectly.
And at an average of around 100 of them moving off dealer floors every month, they are popular already.
The changes to the R1 405 600 top of the range VX-R model we had are mostly found at the front of the vehicle. A new front grille design is now joined by smoked, Auto High Beam functionality, BiLED headlamps and super bright LED illumination plus Daytime Running Lights (DRL).
A new brown interior trim colour has been made available, now affording VX-R buyers a selection of three interior choices – beige, black and brown.
We had the beige and while it makes the interior feel open and airy, it does get dirty quickly. I would go for brown or black.
You get the full suite of electronic driving aids, including Lane Keeping System, Blind Spot Monitoring, Active Cruise Control and then Surround-View Cameras that make parking and manoeuvering the big SUV so easy even my daughter wasn't afraid to drive it.
You also get a leather interior with power-adjustable front seats that are ventilated and heated, three-zone climate control as well as a cooler box and satellite navigation with touchscreen infotainment.
And, as a proper seven-seater, the 200 had plenty space for my girls and all their luggage, and that is something I haven't been able to say for some time.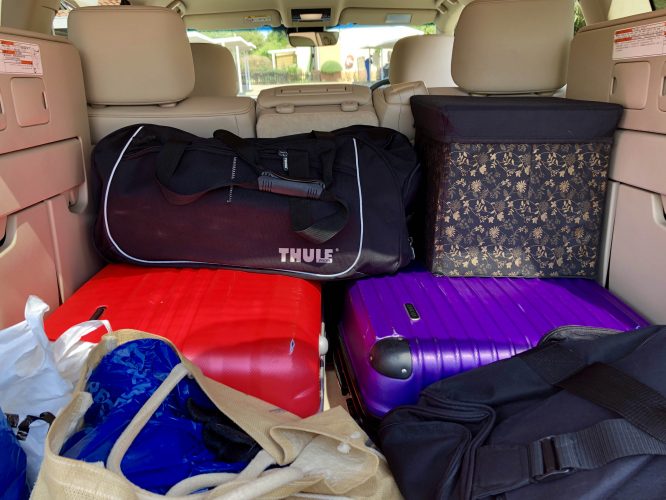 There is a detachable tow bar that can haul a full 3 500kg on a braked trailer, and of course you have all the electronic off-road goodies like Multi-Terrain Select (switchable off-road driving modes), Active Traction Control (A-TRAC) and Crawl Control, that makes going anywhere, and I mean anywhere, no problem.
The LC 200 is powered by a stonker of a 4.5-litre V8 turbodiesel engine that produces 195kW of power and 650 Nm of torque.
I don't know what it is about Double Cab Bakkie owners, but come up behind them to overtake, and they feel that they are in the Dakar and they try race off.
It was lots of fun on our trip down to the coast to simply power past them like they were not there.
I would love to say that this power didn't come at the cost of fuel consumption, but it does to some degree.
Toyota claim an average fuel consumption figure of 10.2-litres per 100km, but the best I could get on the open road was 12.1-litres and the average for the time I had the LC settled at 13.5-litres per 100km.
It does make your eyes water a little when you have to fill this machine as it has a 93-litre tank with a secondary 45-litre tank and your garage card says thanks, that will be R2 000 before you head down or back from the coast.
Talking of driving to and back from the coast, when Toyota wrote that the Land Cruiser 200 remains the unquestionable conqueror of the African landscape, I don't think they had conquering the war zone that exists out on our roads in South Africa in mind.
And, trust me, you will be thankful for driving such a heavyweight bruiser, because it is a war out there on our roads.
Here are some unbelievably sad numbers for you to digest.
The claimed road death toll numbers for December 1, 2017 to January 9, 2018 was said to be 1 527 people and if you factored in an extra week to January 15, this number went up to 1 676 deaths.
Going from 2018 into 2019 has so far proven to be no better with hundreds of people dying on our roads over the same period (I am not quoting 2018/2019 stats, as they are not available yet).
I want you to think about this.
Using this short time span of 46 days, this translates into 36 people dying each day on average during this period.
And everybody on social media explodes about this, as do the media, and there are calls for all sorts of non-effective, drastic action to be taken to curb these deaths.
But do you want to hear the really frightening part?
Once the year-end holidays are over, nothing much is said again until the Easter holidays, and yet every day between now and then and for the rest of the year, this warlike death toll of almost 40 people a day continues unabated.
That's right, it is said 14 050 people died in 2017 on our roads and this means on average 38 people died each and every day.
It's a fact then that the holiday period that causes such outrage and traffic police activity is actually quieter when it comes to people dying, as the death toll on non-holiday days would have to be higher than the holiday number to bring the annual average up to 38 people per day for the entire year.
Can you imagine the reaction if there was a mass shooting in the US that took 40 lives every day?
Trump would forget about the immigrants and the wall and soldiers would be re-deployed into a win-at-all-costs urban war.
This is a classroom at school wiped out every day, an entire school wiped out every three months, or your whole office deleted daily and your company gone in three months.
So why isn't there outrage in SA every day?
There should be, but there isn't.
My opinion – all this is political showboating that does not address the real issue and there is simply almost no visible policing that concentrates on the likes of the dangerous overtaking type moving violations.
Sitting behind a bush on a straight road with your radar gun speed trapping is not going to stop somebody making a deliberate choice to illegally overtake and wipe out innocent road users.
Doing something like this should be seen as murder, because that is what it is, and should be prioritised as such.
Likes
Space and comfort for days.
Powerful engine that makes for easy driving.
Dislikes
Use the horsepower and you will pay at the pumps.
Verdict
Toyota's go anywhere heritage coupled with all the convenience you would ever need, make it hard to beat.
For more news your way, download The Citizen's app for iOS and Android.