The new Suzuki Jimny is just one of those vehicles. The general public swamp around it like a super car, it's crazy, their owners are rabid supporters of them and I get the feeling many want to secretly own one.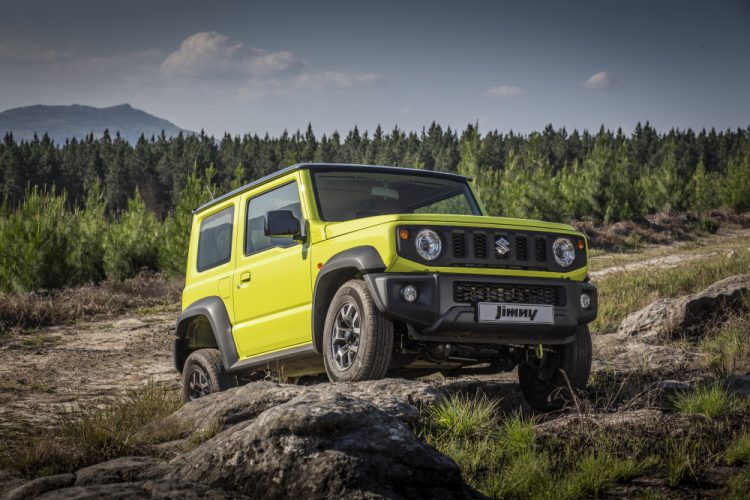 I say "secretly" because, as great as the little Jimny is in so many ways, it is compromised in others.
It seems like the previous Jimny was around forever and in new car terms, being around 20 years before being changed is forever, but that is not necessarily a bad thing.
And Suzuki were smart enough to not lose that old-school retro style that worked so well for the previous generation. I loved every part of the styling.
The new Suzuki Jimny arrived in SA with the choice of two specification levels (GA and GLX), two transmission options (five-speed manual and four-speed automatic) and a host of made-for-adventure accessories.
My family and I drove around in the top-of-the-range GLX automatic that comes in at a reasonable R319 900.
While luxury specifications and accessories may vary from model to model, every Jimny has the same mechanical pedigree it has always had and is ready for serious off-roading.
I admit I didn't do any off-roading with it, but I have seen a Jimny go places that very few other "traditional" 4x4s can go, and go there with absolute ease.
I would say the Jimny is the "Mighty Mouse" of the current crop of serious off-roaders.
The strength of the new Jimny's capabilities is the ladder-frame chassis with a new patented cross member, which lives between the two rigid axles.
Despite adding rigidity to its off-roading ability, it has improved the vehicle's onroad driving dynamics and overall crash safety. But let's not beat around the bush, the Jimny is never going to win dynamic battles on the road – leave the fighting for off the road.
And what would a real off-roader be without four-wheel drive with a low-range transfer gear? Here Allgrip Pro replaces the push-button selection between 2H (rear-wheel drive), 4H (4WD high gear) and 4L (full low-range 4WD) with a shift lever.
It is directly connected to the transfer gear and can switch between 2H and 4H on the fly at speeds of up to 100km/h.
The mechanical four-wheel drive system is greatly enhanced by Suzuki's proprietary Brake Limited Slip Differential and electronic stability control systems.
The Brake LSD-system adjusts torque to the wheel with grip if another wheel on the same axle starts spinning.
The system has an extra-power mode, which kicks in below 30km/h in low-range mode for the best possible traction.
Brake LSD is supported by hill hold control and hill descent control, which are standard on all models.
Hill descent control will maintain a descent speed of 10km/h in 4WD high range and 5km/h in 4WD low range, which allows you to focus on navigating obstacles, without having to operate the brake pedal.
The 1.3-litre naturally aspirated engine has been replaced with a new 75kW/130Nm, 1.5-litre engine that also remains naturally aspirated in our market. So, once again, outright street performance is not its forte.
Suzukis are well known for their fuel consumption and for the really smooth-shifting auto they claim 6.8l/100km on average, but maybe because I used my test Jimny mostly in an urban environment, I averaged around 9.4l/100km. The exterior's blend of practical and retro design cues is carried over into the interior.
The design of the instrument cluster, dashboard, partly exposed door panels and rear luggage area reminds you of the model's nearly 50-year history, while also incorporating the improvement feedback from owners of previous models, and it works. Where it is seriously compromised is in terms of space.
You are not going to easily cart your family and their luggage on a holiday. In fact, my wife couldn't get the month's groceries in the back without lowering the rear seats. So it is compromised, but it is almost like a guilty pleasure.
Being a Suzuki also means the Jimny has plenty to offer in terms of specification and safety. Love it or love it more, so popular is the vehicle that getting one is not going to be easy.
The first few allocations to dealers are all spoken for, I am told.
The GLX model comes standard with a four-year/60 000km service plan and the GA model with a two-year/30 000km service plan.
All models are sold with a five-year/200 000km mechanical warranty.
Likes
Retro styling.
Go-anywhere off-road ability.
Dislikes
Lack of real-world interior space.
Verdict
You know you want one, you just got to justify having one.
For more news your way, download The Citizen's app for iOS and Android.