The boy band will arrive in Johannesburg this week for two concerts in the city on 28 and 29 March, but it is not clear whether Zayn Malik will be present. Malik dropped out of the tour on Friday due to stress. At the time, Big Concerts could not confirm whether Malik would be on the South African leg of the tour saying, "We have no update on this matter at present. The 1D statement issued last week has not been updated by management on whether or not he is coming".
However, the band released an official statement on Wednesday, March 25th, via their Facebook page announcing that Malik had decided to permanently leave the group. In the statement, Malik explained that he wanted to be a 'normal 22-year-old', but that he has 'four friends for life in Louis, Liam, Harry and Niall. I know they will continue to be the best band in the world.' The statement included a comment from the band to say that they will continue as planned, as well as a few words from Simon Cowell who helped the launch the group into stardom.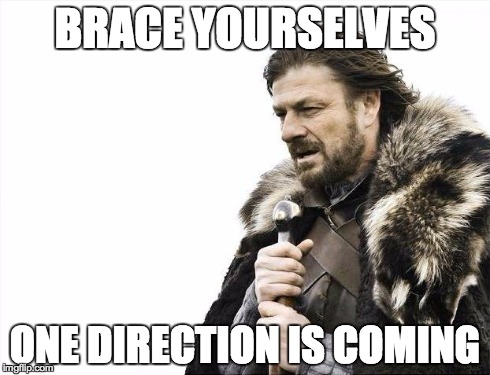 There are strict security guidelines for those attending the concerts. These guidelines seem to exist because the band's core audience is under 18. Big Concerts' safety information for the concert states that all attendees under 14 years must be accompanied by a parent or guardian.
If you're under 1.2m or younger than 13, then you won't be allowed onto the Golden Circle or General Admission field standing areas. There is good news, however, you can take selfie sticks into the venue, provided they aren't used in a dangerous way.
If you're a parent or guardian who is being forced to chaperone young One Direction fans, you will not be able to blur out the experience with alcohol. No alcohol will be sold in the venue, and concert goers can't bring in their own.
The safety guidelines include specific directives for minors who are not accompanied by adults: "Children between the ages of 14-18 years of age who are not accompanied by a parent / guardian must have an emergency contact number for their parent / guardian saved under the name ICE on their mobile phones".
Underage attendees are also advised not to use mobile applications such as Facebook and Twitter to save on battery life, as there won't be charging facilities at the venue.
Chaperones, security and the SAPS will be on hand…just in case the teenage girls get out of control.