UK-based company Hopper HQ has released a list of the highest-paid Instagram users and our very own beauty and lifestyle vlogger Mihlali Ndamase features on the list.
According to Hopper HQ, Ndamase, who boasts 721,676 followers on the social media platform, is the 135th highest paid Instagram user and apparently makes $1,800 (R25,000) a post.
She came 17th on the highest-paid beauty Instagram users, with USA's Huda Kattan who makes R1.2 million a post taking the first spot.
The vlogger trended on social media following the released list, with some sending congratulatory messages, while others considered a career in social media influencing.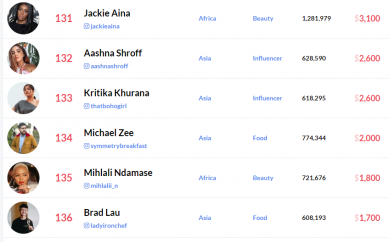 Model and businesswoman Kylie Jenner is the highest paid Instagram user, making R16.6 million a post, followed by Ariana Grande (R13.8 million), Cristiano Ronaldo (R13.5 million), Kim Kardashian (R12.6 million), and Selena Gomez (R12.3 million).
The following five were actor and former wrestler Dwayne Johnson, musician and actor Beyonce Knowles, musician Taylor Swift, soccer player Neymar Jr, and musician Justin Bieber, in that order.
Check out the rest of the list here.
For more news your way, download The Citizen's app for iOS and Android.